Semi-retired consultant Mike was in London when he received a message from his bank in France. 
"Account maintenance fees incurred by non resident clients will evolve," began the message from BNP Paribas. 
BNP Paribas – the largest banking group in France and Europe – has confirmed that from June 2nd, the monthly account fee will double for people who are not full-time residents in France.
From June, Mike will have to pay €10 per month for the privilege of keeping his account open. 
"It seemed like needless complexity. No one has a positive reaction towards a bank – particularly when the costs are going up but the service has stayed the same," he said.  
The planned price hikes have tempted Mike to look elsewhere.
"I would be interested in reading about some of the alternative offers," he said.  
Fee increases 
Mike is far from the only person who will incur greater fees as a result of BNP's policy change, which targets non-residents. 
People who are resident in a country that is a signatory to the Automatic Exchange of Information mechanism (including the UK and the US) will have to pay €10 per month, per account, from June 2nd.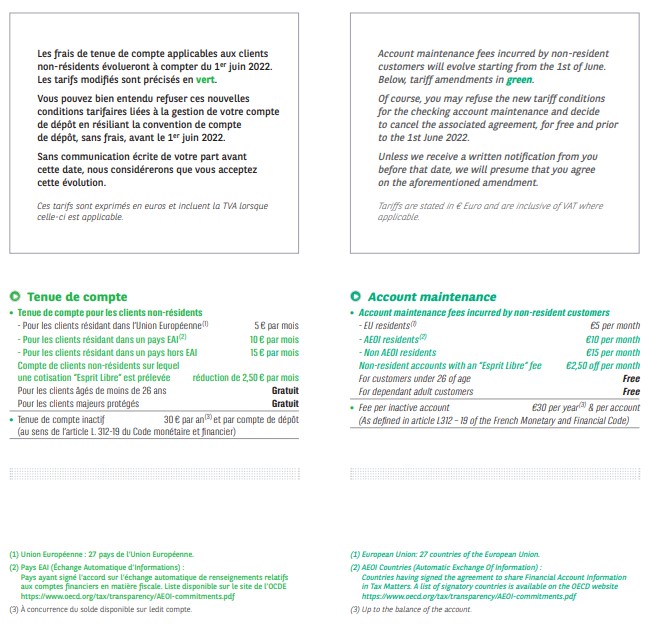 BNP Paribas sent the following letter to non-resident clients (Source: Mike)
People whose official residence isn't in an EU country or an AEOI country will have to pay €15 per month, per account.
Those who are resident in an EU country other than France will continue paying the same fees – €5 per month, per account. 
What does the bank have to say?
BNP Paribas say they are increasing fees to "be able to continue providing all of our non-resident clients the same level of service and accompaniment despite a more and more demanding international environment". 
"BNP Paribas is one of the rare actors on the market that has decided to take international clients whatever their country of residence. Certain banks have made the choice to close the accounts of non-resident clients and those that do not often limit themselves to the EU zone," said a representative of the bank. 
However, a number of other French banks that we spoke with also offer services to non-residents. 
READ MORE Which French bank is best if you are a non-resident
BNP told us that their account advisers speak more than 30 different languages and offer some options to non-resident clients, such as specially tailored lending insurance and health coverage, that other banks do not.
Clients can also benefit from video calls with their account adviser – even when there is a significant time difference.