Presented France
Why France is the place to build your business career
If you're looking for a career boost, there are a dizzying array of business schools promising success through their MBA programs. Here's why increasing numbers of both individuals and employers are realising the power of a French MBA.
France is a world leader in business education for a number of reasons. Together with business school ISC Paris, we look at some of the factors that contribute to the success of French business schools and how you can take advantage.
French is among a number of powerful world languages
Almost every business school in France offers its tuition completely in English, including ISC Paris, so there's no need to learn French to study at one. 
That said, French language skills are something usually developed, either through natural immersion outside the classroom, or through structured lessons offered as part of the program. 
While English is widely considered the international language of business, French is one of the top five spoken languages in the world, with 284 million speakers. Being able to speak both English and French in your professional dealings is a powerful tool in your repertoire. 
The French gave us the term 'entrepreneur'
When French economist Jean-Baptiste Say coined the word 'entrepreneur' in the 19th century to describe those individuals backing their own business enterprises, he couldn't have predicted the economic and technological boom the country was about to go through.
In the late 19th century, France experienced an economic and technological boom as business attempted to supply the rapidly growing middle class. The camera, the department store, the pasteurisation process – all were direct responses to market needs.
To this day, the country continues to prize innovation, with French President Emmanuel Macron launching a €30-billion investment fund to grow the digital economy.
France's spirit of enterprise and innovation is carried across to the country's business schools. As Jad Bazih, head of ISC Paris' MBA program states, "The MBA… is the door to an entrepreneurial mindset. We focus on reinforcing the managerial skills of candidates, and maintaining a strategic vision."
France is a world leader in several industries
France is often most closely associated with the luxury, beauty, fashion, and design industries. However, this perception ignores those areas in which the country leads the world.
The world's largest energy provider, EDF, is French, as is insurance giant AXA. Peugeot, Renault and Michelin are stalwarts of the automotive industry, and BNP Paribas is a giant of the banking world. As the digital economy surges, Orange S.A. is the parent company of many of the world's most recognisable telecommunications providers.
Undertaking an MBA at a French business school not only gives you the ability to see French business up close, but experience it during practical components of the program, such as ISC Paris' capstone projects. Here, students act as consultants to some of France's  – and the world's – biggest companies.
The proximity to so many market-leading companies also means that some of the world's most exciting managers, CEOs and business thinkers are regular lecturers and guests at French business schools, including ISC Paris.
ISC Paris is one of France's most respected business schools, offering high quality teaching and experiential learning. Learn more about their MBA program before the February 2023 intake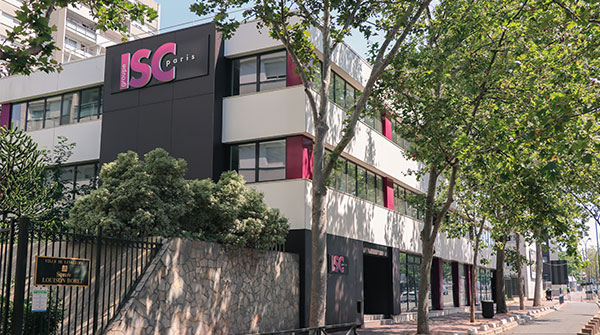 ISC's modern campus, close to the heart of Paris. Photo: Supplied
Business schools in France prize diverse, multicultural cohorts
Undertake an MBA at a French business school and you'll find that you are part of an international student body. One reason for this is France's position as a global business and research hub, with a significant international population. Another is the understanding that to offer the world's best business education, French business schools need to reflect the world in their intake.
A number of nationalities are represented in the ISC Paris MBA class, and each student has their own story and appreciation for what the school offers.
Ukrainian Yevheniia Stasiuk states: "After dramatic events in my country, I found a shelter in France. I really appreciate that ISC Paris allowed me to join the current International MBA course.
"I chose this course because in my opinion ISC Paris is one of the most progressive European business schools. The classical MBA education, that puts you deep inside the culture of doing business in France, is necessary for all foreigners who are aiming to continue their career path here.
"For me it's a unique chance to restart my life, maintain my professional skills and integrate into the French job market."
Issam El Hadouti, who came to ISC Paris from the US, says: "Coming from California, I find Paris to be a very beautiful city offering a lot to students. It is also very affordable compared to San Diego! The professors at ISC Paris are very engaging and challenging and care a lot about the school.
"I am very pleased with the content of the classes in our MBA and already gaining lots of corporate business knowledge. It is fantastic!"
Business schools are often more cost-effective in France than in other countries
While the teaching offered at French business schools is top of its class, an MBA from a French business school is often far less expensive than one from a similar US institution. An MBA from ISC Paris, for example, costs €20,000 ($21,011 USD) whereas an MBA from an equivalent US school could cost upwards of $80,000 USD.
You will also find that the cost of living is far less in France, even in the capital. Depending on your circumstances, there are a wide range of accommodation options, including on campus at ISC Paris. 
Ready to explore a French MBA? 
It's important to do your research, to find the right French business school for you – one that matches your specific needs and working arrangements. 
For an MBA at a French business school that offers a global business perspective, infused with the French spirit of innovation, consider ISC Paris. With world-class teaching, an international student body and location in the heart of the Paris, it is your key to a fulfilling professional business career.
Learn more about the MBA from ISC Paris, which prepares you for an exciting business career anywhere in the world. Apply now for the February 2023 intake 
This content was paid for by an advertiser and produced by The Local's Creative Studio.
See Also