In its mid-afternoon update Météo-France placed Alpes-de-Haute-Provence on orange alert – the second highest weather warning level – for storms on Friday afternoon, joining the Var, Gard, Vaucluse and Bouches-du-Rhône.
🔶 5 dpts en #vigilanceOrange

Restez informés sur https://t.co/rJ24zzmmy4 pic.twitter.com/K91P6s7W61

— VigiMétéoFrance (@VigiMeteoFrance) September 2, 2022
The first slow-moving thunderstorms are in place over the east of the Var, according to Météo-France, while a "very active line of thunderstorms" is approaching the Cévennes in the Gard.
🟠#DirectMeteoSE Des cellules orageuses localement virulentes concernent actuellement les secteurs de #Nimes et d' #Ales dans le #Gard.

⚠️Prudence si vous vous trouvez dans ces secteurs.

👉Tenez-vous informés sur https://t.co/NwVkedHjOD pic.twitter.com/9RMSyGt12x

— Météo-France Sud-Est (@MeteoFrance_SE) September 2, 2022
Storms will continue to develop along the Mediterranean arc overnight, bringing hail, high winds and torrential rainfall, which – because the storm cells are moving very slowly – could cause flash flooding in places as water runs off parched ground.
Violent orage en cours entre l'est Hérault et le #Gard. Un foudroiement intense, de la grosse grêle et des pluies diluviennes sont observés. Cet après-midi ce soir et cette nuit il existe un risque de stationnarité. Restez informés. https://t.co/CSYEovTI83#VigilanceOrange pic.twitter.com/Hw4kDGdlW1

— VigiMétéoFrance (@VigiMeteoFrance) September 2, 2022
Neighbouring departments currently on yellow storm vigilance, meanwhile, are warned that locally violent storm cells cannot be excluded.
READ ALSO Violent storms and floods forecast for south of France this autumn
Floods watchdog Vigicrues, meanwhile, has upped its flood alert on river stretches in the south of the country to yellow.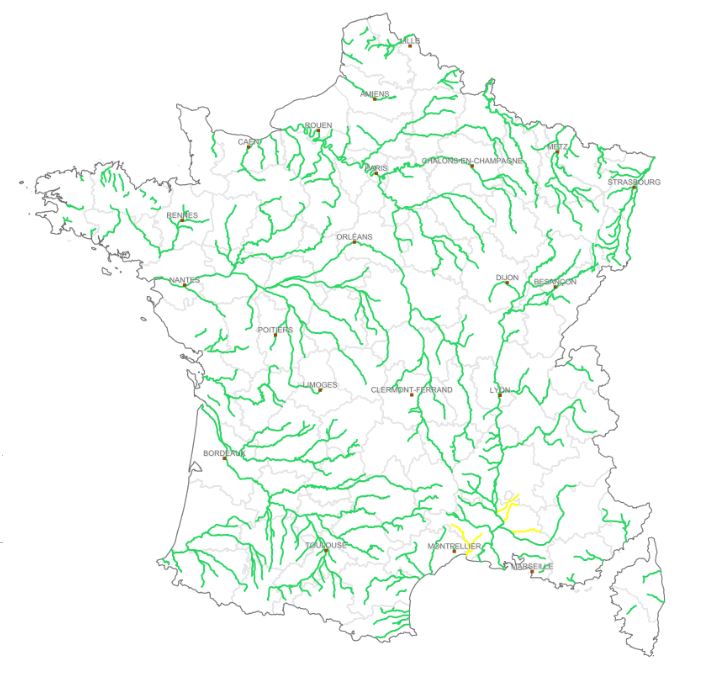 Image: Vigicrues
Looking further ahead, Meteo-France's meteorologists are watching tropical storm Danielle, which is developing out in the Atlantic, further north than is usual at this time of year. According to some early modelling, the storm could reach Europe around Saturday, September 11th.
🌀Tempête tropicale #Danielle baptisée par le @NHC_Atlantic .

— Météo-France (@meteofrance) September 2, 2022
Forecasters point out that, this far out, weather modelling is not always accurate, so they are waiting to see how the storm develops before