Firefighters have been unable to control the blaze near the Dune de Pilat, Europe's highest sand dune and a summer tourism hotspot, where rapidly changing winds have increased the risk of it spreading to residential areas, they said.
"The smoke is toxic," firefighter spokesman Arnaud Mendousse told AFP. "Protecting the population is a matter of public health."
Some 8,000 people were evacuated from Les Miquelots, a southern neighbourhood of the town of Teste-de-Buch, with another 3,000 told to leave Pyla-sur-mer, to the east.
Monday's evacuation effort comes after 14,000 people – including tourists at campsites in the area – have been evacuated since the fire broke out on Tuesday. 
Firefighters in the coastal town of Arcachon in France's southwestern Gironde département were fighting to control two forest blazes that have devoured more than 10,000 hectares since Tuesday.
"It's a Herculean job," said Lieutenant-Colonel Olivier Chavatte from the fire and rescue service, which has 1,200 firefighters and five planes in action.
Incendies en Gironde : le feu arrive sur la plage de la Lagune à La Teste-de-Buch. Il a franchi la D218. Les pompiers parlent d'une "attaque massive" https://t.co/H33GOgn1L0 pic.twitter.com/JUoxtoTQz4

— Sud Ouest Bordeaux (@SO_Bordeaux) July 17, 2022
Further evacuation orders were given on Saturday for a few hundred residents, firefighter spokesman Arnaud Mendousse told AFP, including tourists at several campsites.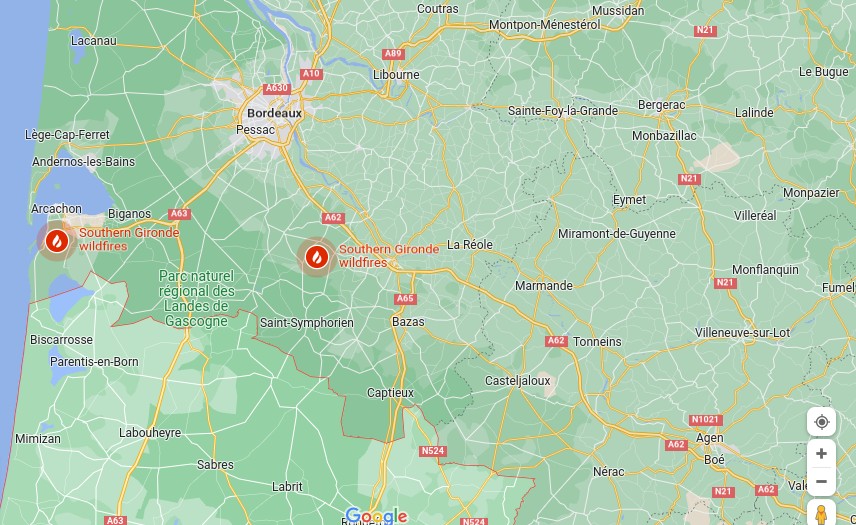 Since Tuesday, more than 22,000 people in total – residents and tourists combined – have been forced to decamp with seven emergency shelters set up in order to receive evacuees.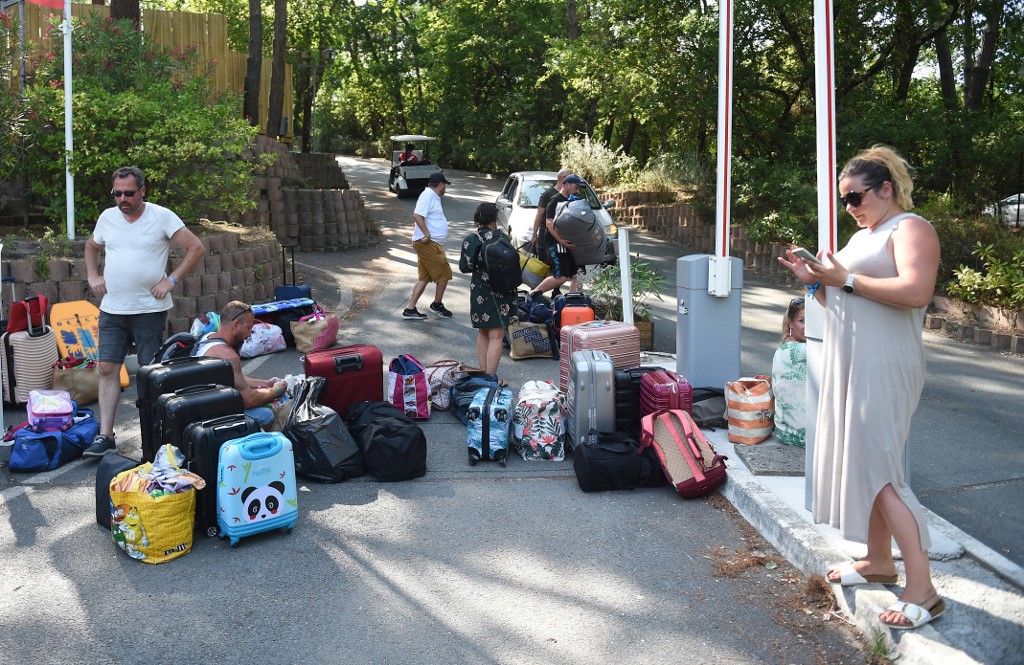 Tourists evacuate the Capfun campsite near La Teste-de-Buch, southwestern France. Photo by GAIZKA IROZ / AFP
Météo France forecast temperatures of 40C and above for large parts of France at the start of this week, with 15 départements on red alert for extreme heat on Monday.
READ ALSO What temperatures can we expect in France this week?
Authorities in the French Alps urged climbers bound for Mont Blanc, Europe's highest mountain, to postpone their trip due to repeated rock falls caused by "exceptional climatic conditions" and "drought".
The call comes after a section of Italy's biggest Alpine glacier gave way at the start of the month, killing 11 people, in a disaster officials blamed on climate change.