The risk of tsunamis in the Mediterranean Sea is real – on October 16th, 1979, a tsunami, caused by a landslide, hit the coast of Nice and killed a dozen people. More recently, the Greek island of Samos in the Aegean Sea was hit by a tsunami in 2020.
But the climate crisis and rising sea levels mean that experts fear that in the future they will no longer be rare events along the Mediterranean coast.
Unesco has therefore announced that it will be adding thousands of communities to its Tsunami Ready Plan, including the French cities of Marseille and Cannes.
Experts fear that tsunamis in the Mediterranean could reach up to a metre in height and are almost guaranteed in the next 30 years.
According to Unesco's calculations, "there is a 100% chance" that tsunamies will occur in the Mediterranean "over the next thirty years." Therefore, the UN organisation has called for public authorities to institute their multistep programme, which would encourage awareness, warning, and prevention mechanisms for at-risk coastal communities. 
The preparedness program seeks to ensure that these cities and towns, like Marseille and Cannes, will have the necessary response mechanisms in place by 2030.
The Tsunami Ready program, which has already been piloted in dozens of communities across the Caribbean, Pacific and Indian Ocean regions and was prepared by Unesco experts, establishes twelve indicators to be respected by the communities concerned. This means that Marseille and Cannes will be expected create plans for identifying tsunamis threats and build community awareness and preparation for how to cope with tsunamis.
The twelve readiness indicators are shown in the graphic below: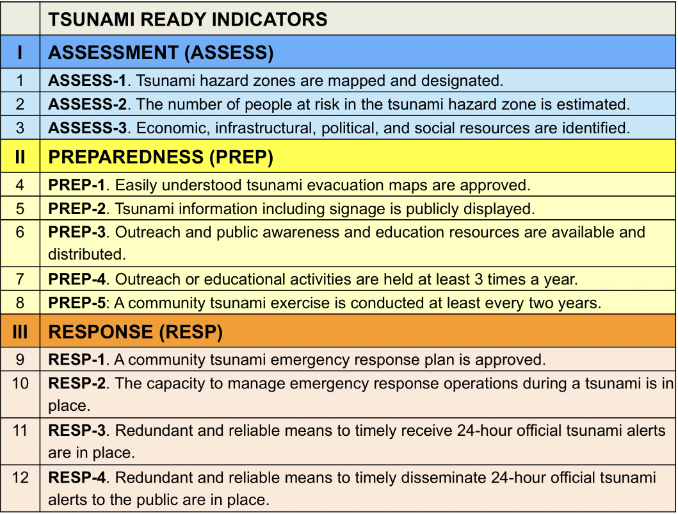 Communities must meet all 12 indicators, which cover Assessment, Preparedness, and Response, will be recognized as 'Tsunami Ready' by the
UNESCO
/IOC.
Tsunamis are usually caused by seismic activity (78 percent of them) – like the deadly Indian Ocean tsunami in 2004 that killed over 210,000 people, but 10 percent are also caused by volcanic activity and landslides, like the tsunami that hit the Pacific island of Tonga in January. Meanwhile, the rare 2 percent are caused by meteorological activity.
However, the increased concern for tsunamis along France's Mediterranean coast is in part due to rising sea levels (resulting from the climate crisis) and the need to better monitor underwater volcanos.
Rising sea levels can lead to an increase in the power of tsunamis – up to tenfold. In some parts of the world, such as Macao, scientists estimate that  tsunamis will have twice their current impact by 2050.
Even a tsunami of 50cm high can do a lot of damage – what sounds like a small flow of water is actually capable of lifting a car and depositing it several dozen meters away.