Weather alerts have been issued for 17 départements in northern and central France.
The national forecaster's mid-morning weather update put Nord, Pas-de-Calais, Somme, Aisne, Oise, Seine-Maritime, Eure, Ardennes, Marne, Val-d'Oise, Yvelines, Essonne, Seine-et-Marne, Seine-Saint-Denis, Hauts-de-Seine, Val-de-Marne, and Paris on orange alert for storms – its second-highest weather warning, urging residents and visitors to those areas to be extra-vigilant.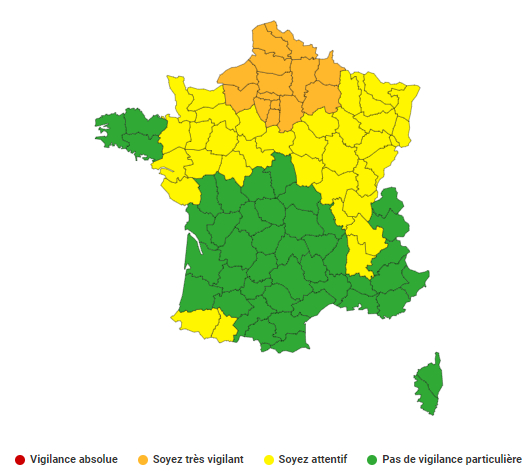 Image: Météo France
Up to 30mm of rain in less than an hour is forecast, as the system crosses the country from west to east from the end of the morning and through the afternoon, with winds passing 100km/h as the locally violent storms pass. Hail showers are also possible.
The worst of the storms are expected to pass by about 6pm, but the current weather alert is in place until 6am Saturday, and may be updated as the day progresses. 
A further 29 departments, the entire northern half of France except the tip of Brittany, are on yellow alert for storms, with a further six currently on yellow alert for strong winds.
Last weekend, north-west France was affected by violent thunderstorms, which had left thousands of homes without electricity. Since then, France had experienced very high heat – in Paris the overnight heat record for the month of May was broken this week.