France basked in a late Spring heatwave last week, with temperatures topping 30C in parts of the country for the first time this year.
Now, as we enter the third week in May, forecasters are predicting that temperature records could tumble as a heat dome forms over the country.
Last week was hot, there's no doubt, but not record-breaking – with higher figures recorded for the month in 1976, 1992, and 1998. But experts say even those highs could fall this week as a mass of hot air moves into France from the south – bringing temperatures more usually associated with July and August.
Ce mois de mai risque de devenir très remarquable tant l'anomalie chaude est prévue persister, au moins les 10 prochains jours. Après une pause relative lundi, retour d'anomalies importantes (+8/+10°C vers 1500 m).
Des records mensuels pourraient être battus la semaine prochaine. pic.twitter.com/AEkrBa3QPL

— Keraunos (@KeraunosObs) May 12, 2022
Temperatures over the weekend were already between 8C and 10C above average for the time of year – but, after a brief lull on Monday, they are set to intensify between Tuesday, May 17th, and Thursday, May 19th, as a so-called "heat dome" settles over the country.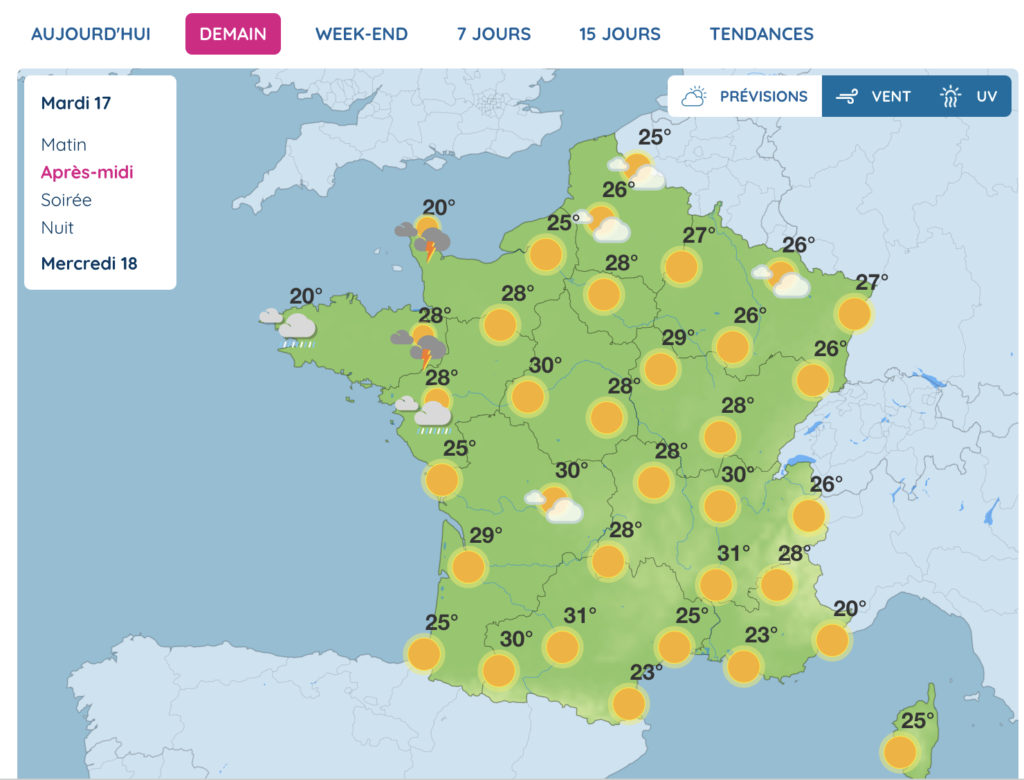 Weather forecast for Tuesday afternoon. Screengrab from
MétéoFrance
.
A heat dome occurs when the atmospheric pressure acts like a lid and traps warm air from the ocean. This trapped mass of warm ocean air produces a "dome," like a lid on a microwave meal, inside which temperatures rise. 
The phenomenon, which occurs mainly in spring and summer, is intensified by global warming, and contributes to the increasingly high temperatures recorded year after year. It can cause, in the worst cases, droughts and forest fires.
The mercury will pass 30C across most of the country in the middle of the week, and is expected to soar beyond 35C in the south. High humidity levels mean that it may feel closer to 40C in the south west, and may lead to storms.
There will be some respite overnight, but temperatures are not expected to drop much below 20C in larger cities.
Despite the high temperatures, France's "plan canicule" will probably not be activated this time in any department or region. 
Average temperatures across France have to cross 30 to 35C during the day and 18 to 20C at night for three consecutive days to trigger the plan – and storms are forecast across a large part of the country on Friday, pushing cooler air down from the north.