Macron's launch
It was long awaited but in the end it seemed a slightly muted performance from Emmanuel Macron as he launched his manifesto for the next five years.
Speaking to an audience of journalists in the Paris suburb of Aubervillers, he spent four hours outlining his plans for the next five years, including tax cuts, a benefits shake-up and raising the pension age to 65.
A long-time champion of French tech, he also wants to create a "European metaverse" so as not to be "dependant on the Anglo-Saxons or Chinese" for digital services.
You can read the full programme here.
Winner of the beer test
He may be trailing in the polls, but Jean Lassalle can console himself on winning one vote – presidential candidate the French would most like to have a beer with.
The Ifop poll asked the public a simple question – Which of the 12 presidential candidates would you most like to have a beet with? Winner was Lassalle, who 39 percent of people said they would like to have a drink with. Second was Emmanuel Macron (although some of those respondents might have wanted to throw the beer at him) and third was Marine Le Pen.
The least popular drinking companion was Parti Socialiste's Anne Hidalgo with just 14 percent.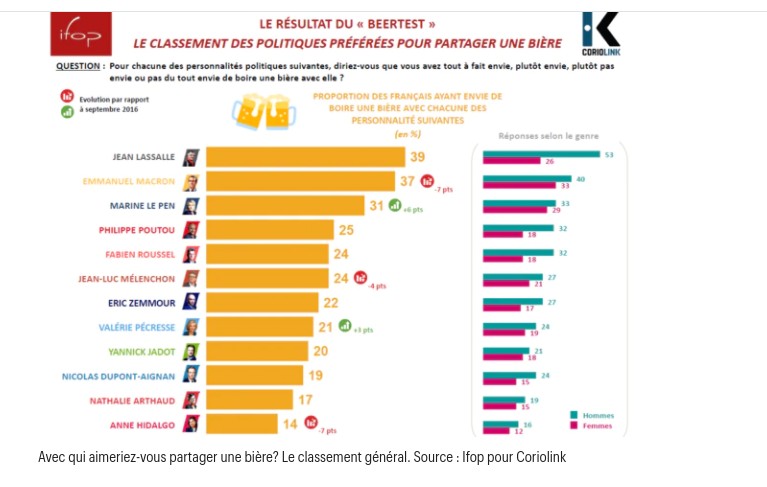 Graphic: Le Parisien
Manifestations
Will PM Jean Castex's package of financial aid to help consumers and businesses cope with the effects of the war in Ukraine be enough to prevent demos during the election campaign? It seems not, judging by this response from a hauliers' association.
More manifestations
Far-left candidate Jean-Luc Mélenchon is hosting a march between Place de la Bastille and Place de la République in Paris on Sunday, calling for the creation of a 6th Republic.
Candidates trips
The candidates are spreading their wings around the country today; Emmanuel Macron is in Pau, Valérie Pécresse in Nîmes, Eric Zemmour is in Metz, Nathalie Arthaud is in Bordeaux and Philippe Poutou is in Nancy. Anne Hidalgo remains in Paris, where she is visiting the Grand Mosque.