Presented by zadarma
Five tech solutions to make your international life easier
If you live abroad or frequently cross borders, staying on top of everything in your personal and working life can be challenging. But in today's world, there are at least a host of innovative technologies that can help you to simplify things. 
What kinds of tech do you find help you the most with your international lifestyle? And which of the following would it make sense for you to try out in 2022? 
The Local, in partnership with Zadarma, a telecommunications company offering virtual phone numbers and other services, presents five essential tech solutions for international living. 
Learn more about Zadarma's affordable virtual phone numbers – available in 100 countries worldwide
1. Virtual debit cards 
Carrying cash and bank cards with you at all times is less and less attractive – and particularly if you spend a lot of time away from your home country. Virtual cards aren't cards at all in the physical sense – they exist only on your phone (phew, no plastic required!). Once you've signed up for a virtual card, you can simply store it in your banking or e-wallet app. 
They do still have a card number, an expiration date, and a security code, so they work just like a regular card (and you can also get virtual credit cards with spending limits).
They're easy to use for online payments and may be linked to Apple or Google Pay to make in-store purchases where contactless payments are accepted. 
Losing a physical bank card can be a nightmare – especially if you have a language barrier to deal with. Lost your password for a virtual card? You'll be able to recover or reset it within minutes, while you should also be able to lock the card from your phone at any time.
2. Language translation tools 
When we asked The Local's readers in Germany and Sweden about the best tech solutions for international living, a huge number cited translation apps and tools. Whether you're a complete newcomer or you've settled in and begun learning the language but need a translator for more complex tasks, these solutions can be a lifeline.
Scared to ask a passerby for directions? Terrified of another blank look from a puzzled official behind a counter? Just type in or say the word in English (or your native language) and get an instant stress-relieving translation. 
Kara Beller, originally from California but living in Hamburg since May 2020, summed up how many of you feel about translation apps: "I would be dead without them!"
While Google Translate is obviously the best-known service, it's not without flaws and there are a wide range of options you could try. Are you looking for the top tool for just one language? Or do you live in a country (or lead a life) where you're befuddled by several different languages? Many apps cover dozens of leading languages but searching for a specialist locally-invented tool could hold more value for some of you.
3. Virtual phone numbers 
While some futurologists have predicted the death of voice communication, people continue to talk to each other on the phone. If you live an international life, phone calls may be vital for staying in touch with family, dealing with admin tasks back home, or running a business. These are some of the reasons for setting up a virtual phone number (a number that's not fixed to a specific device or phone line and can forward incoming calls to another phone or device).
Many international people find it helpful to keep a virtual phone number from back home – such as non-Europeans living in Europe who can face steep charges for long-distance calls that cannot be done via services like WhatsApp, such as those with a bank.
Nayane Smith, a Brazilian reader of The Local who lives in Sweden, says she began using a virtual phone number for better communication "with my family, as well as with the new contact network here". 
With a virtual phone number from Zadarma, you pay as little as €1.60 per month to make the number yours and all incoming calls are free. Subscribers include small business owners wanting to expand their geographical presence, personal users and even an airline call centre. If you're not ready to make a long-term commitment, you don't need to worry as there's no minimum contract term (three-month minimum to include SMS services).
Live in the UK? The re-introduction of European roaming charges by many UK mobile network providers offers one more reason to consider a virtual number – simply make and receive calls to or from Europe through a European virtual number to avoid roaming charges.
Find out more about Zadarma's virtual phone numbers – more than 30,000 numbers are available in 100 countries globally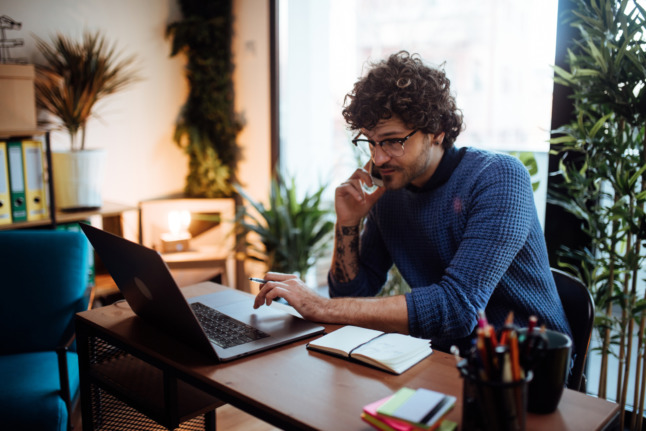 4. Digital health tech 
Video consultations with doctors have become increasingly accessible in many countries in recent years. The chance to speak with a medical expert in English (or perhaps another preferred language) and effectively face-to-face just by picking up your smartphone holds obvious appeal.
If you have a busy life and you're not fluent in the local language, such services – some of which are also available at all hours – could really make things easier for you. That would have been true even pre-pandemic, but is clearly even more the case now as Covid-19 continues to affect our daily lives.
If you're new to a country or planning a move, why not search for the best options whether through public or private healthcare services and work out exactly what you can expect (from advice to diagnoses to prescriptions and perhaps even policies on personal data)?
5. Cloud storage 
We're well into the 2020s and you really don't want to be burdened with bundles of printed documents or a slow, overloaded laptop or phone. Cloud storage continues to evolve and is favoured by many people who live abroad.
It's a great option as a business tool, as well as for storing and organising the huge number of photos you take with your smartphone. But a cloud service also offers a single, secure location in which to save important personal documents you may need again in the not-too-distant future.
Need a photo of your passport or a copy of your birth certificate? Store them in the cloud, so you can access them whenever you're online while freeing up space on your devices.
Want to make your international life easier? Discover Zadarma's virtual phone numbers, available for a monthly fee of as little as €1.60. Ready to sign up? Register here
This content was paid for by an advertiser and produced by The Local's Creative Studio.
See Also