The government is working on a plan to 'protect' French residents from the price rises resulting from the invasion of Ukraine and subsequent sanctions on Russia, but while we wait, here are some tips on finding cheaper fuel.
Autoroutes
Unsurprisingly, the highest prices are at service stations on the autoroutes so heading into a town to fill up instead will save you money.
Make sure you know where you are going though. Many supermarkets place signposts next to highway exits, but once you have turned off the signs often trail out leaving you lost in a strange city.
If you end up driving the entire circumference of the city of Tours while having a blazing row with your partner – to quote a completely random example from no-one we know – it rather nullifies any saving you might make on fuel prices.
Supermarkets
Supermarkets usually come out top of most price comparison sites, as the chains sell fuel at very little profit, but use the filling station as a way of luring the customer into the main store to spend money.
Map
The French government hosts this helpful little interactive map that lists the current price of fuel at filling stations across the country.
If you're in a town it can provide a price comparison, or for long journeys help you plan your route via the cheapest filling points. Click HERE for the full map.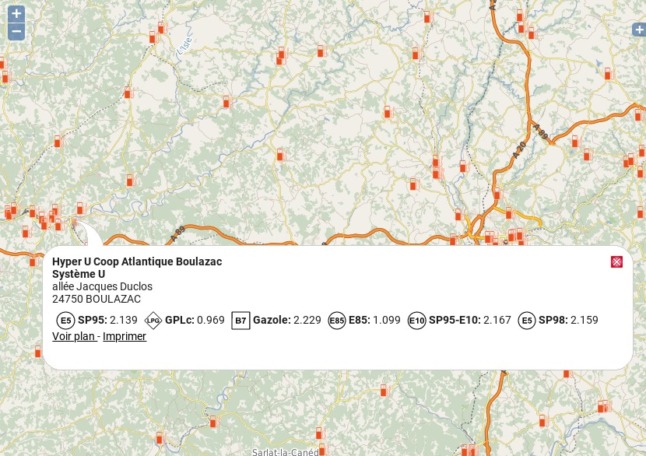 Map: gouv.fr
There are also apps that do roughly the same thing, including Carbu.com, Essence&Co and Fuel Flash.
Government help
While no governments enjoy presiding over fuel price rises, in France this has a particular political resonance as the 'yellow vest' protests that rocked the country back in 2018 and 2019 began as a protest over the cost of motoring.
At that time petrol was around €1.60 a litre, significantly lower than the current cost.
Keenly aware of this, the French government also already brought in two measures to protect motorists – a tax break for people who use their cars to commute and a one-off payment of €100 to those on lower incomes.
These measures are likely to be repeated in some form in the Ukraine plan.
French vocab
La station service – filling station
Les carburants – fuel (petrol/gas and diesel)
L'essence – petrol/gas
Gazole – diesel
Sans plomb quatre-vingt-quinze (or SP95) – standard unleaded petrol/gas
Sans plomb quatre-vingt-dix-huit (SP98) – higher octane unleaded petrol/gas