The départements are mainly in northern France and the Paris region where Covid-19 infections have been surging in recent weeks. French PM Jean Castex warned the lockdown could be extended to other parts of the country if needed.
While the national infection rate stands at 266 cases per 100,000 inhabitants the incidence rate in the Paris region of Île-de-France was 446 per 100,000 and in Hauts-de-France the rate was 382 per 100,000.
One département in the south east – Alpes-Maritimes (incidence rate 418 / 100,000), which includes Nice and part of the French Riviera, will also go into full lockdown instead of just the weekend lockdown imposed last month.
Schools in these départements will remain open but residents will also be subject to the nightly curfew which has been imposed nationwide since the end of the second lockdown on December 15th.
From Saturday the curfew will begin at 7pm across the whole country rather than 6pm to take into account of the clocks changing and the start of daylight saving time.
The public will be allowed to exercise or get some fresh air for an unlimited amount of time each day as long as they are within 10km from their home. They will however need an "exemption certificate" (attestation) as during previous lockdowns.
Residents from the départements under the new lockdown will not be allowed to travel to other parts of France.
Only essential shops and stores will be allowed to remain open.
Read the full list of rules for the affected areas HERE.
The full list of départements is as follows:
Hauts-de-France
Aisne (02)
Nord (59)
Oise (60)
Pas-de-Calais (62)
Somme (80)
Île-de-France
Paris (75)
Seine-et-Marne (77)
Yvelines (78)
Essonne (91)
Hauts-de-Seine (92)
Seine-Saint-Denis (93)
Val-de-Marne (94)
Val-d'Oise (95)
Provence-Alpes-Côte d'Azur
Alpes-Maritimes (06)
Normandy
Eure (27)
Seine-Maritime (76)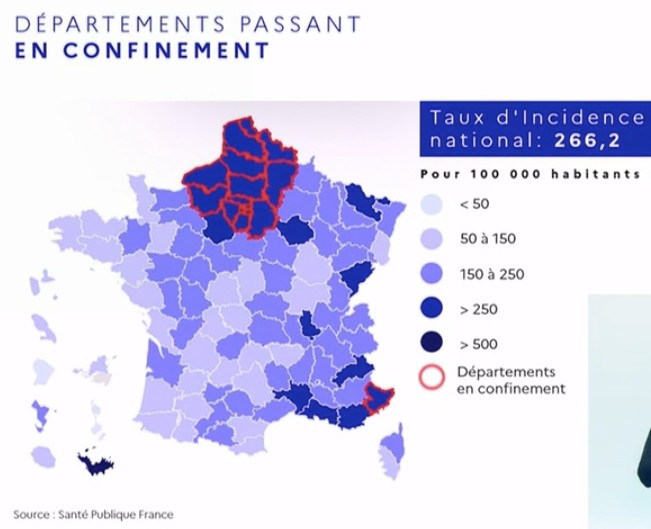 READ MORE: LATEST – 16 parts of France placed back under lockdown