Thirty-nine percent of France's self-employed are still awaiting their monthly "solidarity fund" grant for December, according to a survey conducted by the French national federation for the self-employed (FNAE),  published by France Info on Thursday.
FNAE represents 80,000 self-employed businesses. 
"We receive messages of despair over catastrophic economic consequences," FNAE spokesperson Ludovic Badeau told France Info. "When you make people wait for the solidarity fund for a month and a half, two months, their fridge has emptied."
Set up in March 2020, France's solidarity fund has provided small businesses and self-employed workers with economic grants each month throughout the Covid-19 health crisis.
While the grants were capped at €1,500 a month and did not cover the full losses for many businesses, the fund has been crucial in preventing France from falling into a downward economic spiral of chain-bankruptcies and mass-unemployment.
BACKGROUND: Coronavirus crisis in France: The battle to save the livelihoods of the self-employed
But Badeau said the delays in distributing the help was undermining the whole point of the system. 
"The solidarity fund is an emergency fund and now we are losing that element of urgency," he said.
In addition to the delays of the funding for December, 21 percent of the self-employed asked said they had not yet received help for October.
Originally meant as a temporary measure to help businesses weather what was hoped to be a brief economic storm, the government prolonged the solidarity fund system as the gravity of the Covid health crisis' economic impact grew clearer.
They piled in billions of euro to maintain the scheme for longer and widened the criteria to reach more businesses in need of relief. 
But as the fund grew in size, the government also toughened up checks as several businesses were discovered to have cheated during the application process.
Reinforced checks are the reason for the delays, according to the finance ministry, which said it would dedicate 250 extra agents to fix the problem.
So far, 1,956,097 businesses have benefited from the fund through 6,964,998 grants – nearing €15 billion in state aid in total.
For a full overview over the areas in France that have benefited from the solidarity fund, click HERE to see an interactive version of the map below.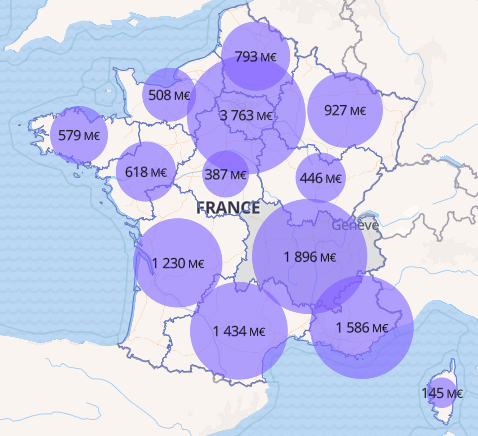 Photo: French government