The man had arrived in France as a tourist from China with his daughter and spent two weeks seriously ill in hospital before succumbing on February 14th, 2020, to the effects of what was then the barely-understood Covid-19 virus.
At that time six people were in hospital in France with the virus – the Chinese tourist's daughter and a group of British tourists who were infected by a compatriot at a French ski resort.
Yesterday 439 people died of the virus, taking France's total Covid fatalities since the start of the pandemic to 80,147.
Here are some of the key numbers to convey the extraordinary year that followed that first death in France.
Health numbers
148 – within a month of the first patent dying in France, deaths had risen to 148 and France entered its first lockdown. The death toll continued to rise for several weeks after lockdown until the tough measures began to take effect and case numbers fell, followed by death rates.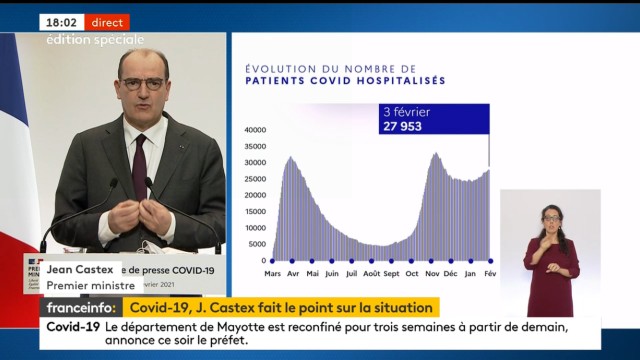 Hospitalisation rates in France, showing the peaks in spring and autumn followed by lockdowns
On March 16th, the day before the country locked down, the official toll of Covid patients was 6,600, but with no widespread testing at that point, the true figure was undoubtedly much higher.
987 – the highest single-day death toll was recorded on April 11th, when 987 Covid patients died. Earlier in the month the daily toll had topped 1,000 but this included data from several weeks earlier from nursing homes, which initially had trouble providing accurate daily death tolls as they were hit hard by outbreaks of the virus.
7,000 – the highest number of Covid patients in intensive care in France. Pre-pandemic, the total intensive care capacity for the country was 5,100 beds. This was rapidly increased, but health services still came under massive pressure in March and April, which saw some of the sickest patients transferred across the country in specially adapted TGV trains while others were airlifted to neighbouring countries.
The second wave of Covid, although still placing intense pressure on health services has not seen ICU numbers this high.
20,000 – Cases in France been at what health chiefs describe as a 'high plateau' since December, with an average of 20,000 new cases each day. For the moment, the French government judges that a third lockdown is not necessary, but the numbers remain too high to consider reopening bars, gyms or cultural centres in the immediate future. Travel in and out of the country is also heavily restricted.
Restrictions
As it struggled to contain virus numbers and protect the health service, the government brought in the strictest population controls seen in France since World War II.
2 – France has, so far, seen two lockdowns. The first began on March 17th and saw the virtual shutdown of the country with schools closed and most workplaces shuttered until case numbers subsided and restrictions began to be gradually lifted from May.
As the situation worsened again in the autumn a second lockdown was imposed on October 30th although this time schools stayed open, before being lifted on December 15th in time for Christmas. Many restrictions remain in place, however and bars, restaurants, cafés, gyms, theatres, cinemas, museums and tourist sites remain closed.
€135 – France's health rules are strict and a number of previously-innocuous actions can now see you land a €135 fine, rising to €3,750 and six months in prison for repeat offenders. Actions that can land you with a fine include not wearing a mask in an indoor public space – or in the street in 400 communes – staying out past curfew, not having a correctly filled-in attestation permission form, visiting a bar or restaurant or gathering in large groups in a public place. 
6pm – The whole of mainland France is currently under a 6pm-8am curfew with the only people allowed to leave their homes at night those covered by the 'essential reasons' rules. 
READ ALSO What are the rules of France's 6pm curfew
20.7 million police checks were made during the first lockdown, with 1.1 million fines issued, according to the Interior Ministry. Police checks and fines have continued in the months since, with 65,000 done on a single Saturday when the curfew rules were tightened, and 6,000 fines issued.
Economy
The government's first priority was to save lives, but the harsh health restrictions in place have also had a huge effect on the country's economy.
9-10 percent – the Bank of France estimates that the country's economy overall contracted by between 9 and 10 percent in 2020.
€61 billion – France's tourist trade, which accounts for around 10 percent of the economy, was hard hit by travel restrictions and lockdowns, losing a total of €61 billion in 2020, according to official figures.
€100 billion – this is the budget that the French government has earmarked to provide aid, from loans for businesses to 'partial unemployment' payments to individuals who are unable to work because of the health restrictions. This is separate from the EU's emergency budget of €750 billion.
Testing and tracing
As well as restricting the movement of the population, the French health system has also been involved a massive effort to, as the health ministry slogan puts it, 'test, alert and protect' the population.
€0 – the cost of a Covid test in France for people registered in the French health system. France and Denmark are the only European countries to make testing free in all circumstances, whether you have symptoms, need a test for work or travel or simply want to get tested as a precaution before visiting vulnerable relatives.
Au moindre doute, faites-vous tester !
Nous disposons en France d'une capacité de dépistage parmi les plus développées et les plus accessibles de tous les pays européens. pic.twitter.com/ipAk0XcLl2

— Jean Castex (@JeanCASTEX) February 4, 2021
3 million – after a slow start over the summer that saw long queues for testing centres and long waits to get results, France's testing programme is now pretty efficient. In a single week before Christmas 3 million people were tested – many of whom got a test in advance of travelling to see friends and relatives over the festive period, an effort that was widely credited with France avoiding a 'post-Christmas spike' in cases.
12.9 people have downloaded the TousAntiCovid contact tracing app. France's first tracing app saw pitiful download figures and was largely useless, so in the autumn it was relaunched to include handy stuff like a downloadable copy of the attestation permission form and the latest health data and experienced a much-improved take-up.
92% of contact cases are reached by authorities within 24 hours, according to the Health Ministry. This covers both people alerted by the app and people contacted by assurance maladie personnel.
1,922,706 – vaccines administered as of February 9th, of which 366,733 were second doses. In what is emerging as a bit of theme, the French vaccination programme started off incredibly slowly with just a few hundred people vaccinated in the first weeks. It is now picking up speed but still lags behind many European countries and will need to speed up considerably if the country is to achieve its target of giving the vaccine to everyone who wants it by the end of the summer.
IN NUMBERS Why France needs to drastically speed up its Covid vaccine programme 
Some positive things
Although few people would nominate 2020 as their favourite year, there were a few nice things that happened.
8pm – during the first lockdown, 8pm was the time when people all over France leaned out of their windows to clap, cheer, bang pots and pans and generally show their appreciation for healthcare workers. For people who lived alone, the daily clap also provided an important moment of connection with other people.
28 – the law on paternity leave was changed, so dads in France now get 28 days leave, up from 14 previously.
44% – that's how much cycle traffic increased in France, as city dwellers increasingly shunned crowded public transport services and took to their bikes instead. The city of Paris saw a network of new coronapistes – temporary cycle paths – many of which have since become permanent.
READ ALSO 7 good things that happened in 2020