1. It is a thing
French people celebrate Valentine's Day too, although here it is known as la fête de Saint-Valentin or, simply, la Saint-Valentin.
Like so many other countries in the world, France has embraced what is generally perceived as an American concept – although Valentine's Day was originally English – and turned it into something of its own.
Although not as ferociously celebrated as in some parts of the United States, French people too like to treat their special someone to something romantic on February 14th.
Even those who claim to hate it might actually be hoping for some extra attention. So if you are seeing someone French, assume that you have a date for Sunday.
2. It's only for lovers
Unlike in the United States, Valentine's Day is reserved for lovers in France. That means parents, friends or relatives do not get heart-filled cards, only les amoureux (those in love) do. 
This also means that February 14th can be quite annoying for singles, especially those living in Paris – which usually is filled with couples from all over the world who have come to the French capital to celebrate their love on that day. 
Of course, the Covid-19 pandemic has put a stop to that this year.
(article continues below)
See also on The Local:
In normal times, some French nightclubs organise singles' nights to make it easier for those not in a couple to enjoy the night.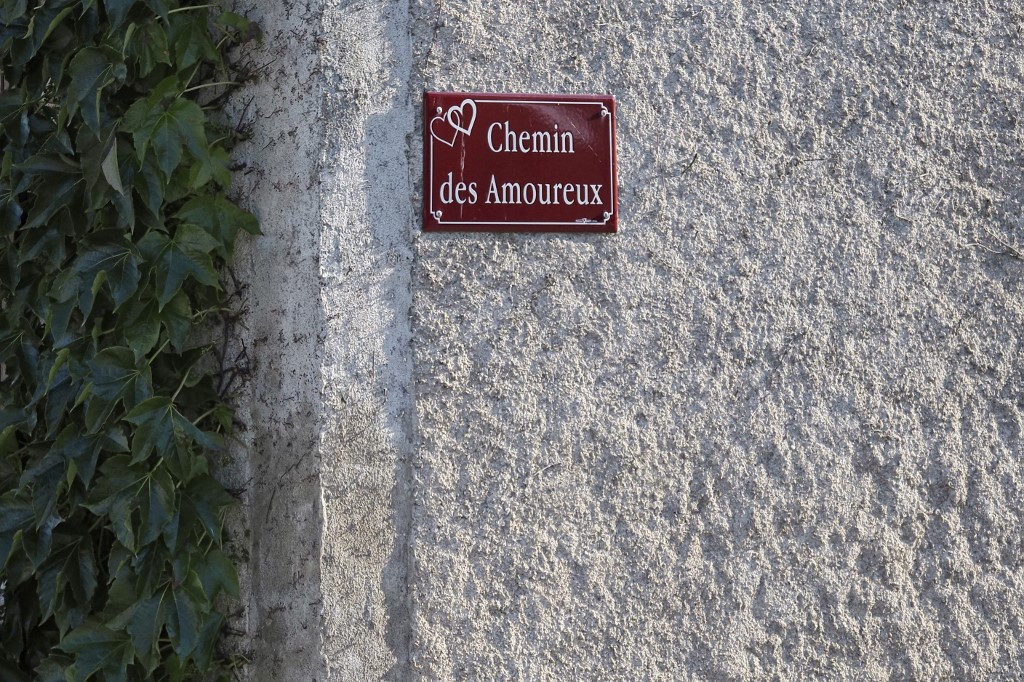 A street named "Path of love" in the village Saint-Valentin village in central France. Photo: AFP
3. Expect to ramp up the romance
The French are known to embrace a relatively overt approach to romance that involves throwing around "I love you"s, lots of displays of affection and labelling their chosen one with pet names ranging from mon coeur (my heart) to ma puce (my flea).
READ ALSO: Language of love – 15 of the best French phrases for lovers and friends
Valentine's Day is no exception. On the contrary, this is a day to up the romance a few notches, which means câdeaux, cartes et compliments – gifts, cards and compliments – will be expected if you're in a couple.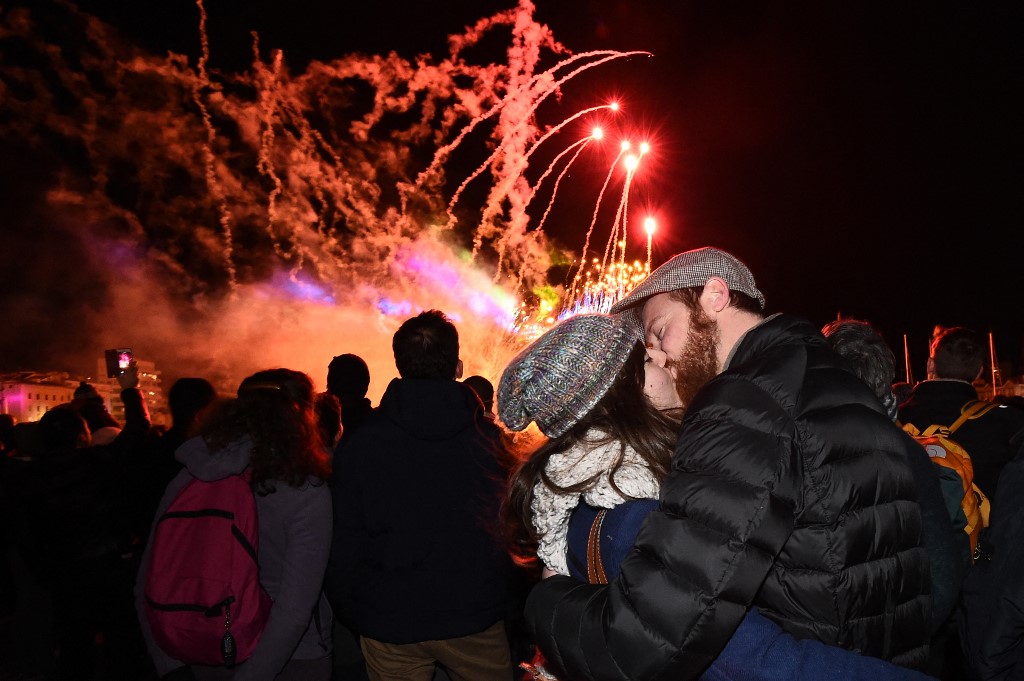 Lovers kiss while at the firework show "Le Grand Baiser" (The Big Kiss), in Marseille on February 14th, 2018. Photo: AFP
4. You don't have to go to a restaurants
While French couples often go out for a romantic meal together on Valentine's, they sometimes opt for a more relaxed dinner at home too.
That means that being in the middle of a pandemic when all the restaurants are shut is no reason to skip the celebrations this year. Nor does it make it acceptable to just heat up leftovers from the day before. 
Of course all of this depends on who you are dating. Not all French people are bitten by the stereotypically Latin way of expressing love. But the rule of thumb is that if you have a French lover who you want to keep, it is generally safer go a little bit too big than too small.
It doesn't mean you need to go all out with love-shaped balloons and teddy bears, just lighting some candles and creating a romantic setting goes a long way.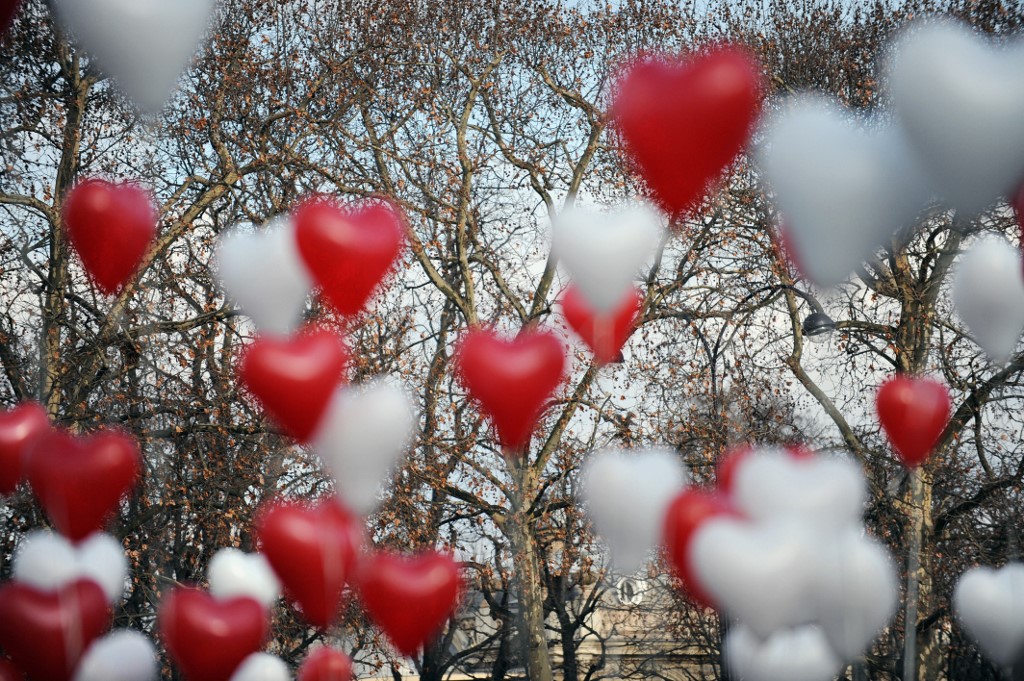 Heart shaped balloons at the Champs Elysées in Paris on February 14th 2010. Photo: AFP
5. But your lover might be expecting a gift
Gifts are not mandatory, but potentially expected. 
French dating culture is still pretty old school (and sexist), and in heterosexual couples the guy typically gives attention to the girl more than the other way around (although dating norms are evolving so it depends on the couples). However, if you are a guy dating a French woman, she might be expecting more than just a kiss.
French stores typically go all in for Valentine's, filling whole sections with love-themed presents to boost sales. Sexy games, books and cards are all on the menu, although flowers is a classic here as it is abroad.
Vocab
Joyeuse Saint-Valentin – happy Valentine's Day
Je t'ai fait une carte – I made you a card
Ce bouquet de fleurs est magnifique – this flower bouquet is magnificent
Merci pour ce boîte de chocolat, ce sont mes préférés – Thank you for this box of chocolate, they are my favourites