Ski holiday resorts in France will not be able to operate their ski lifts during the upcoming February school holidays as hoped, with no date envisioned for when they may get back in business, the government has confirmed.
"The evolution of the health situation does not permit us, at this stage, to reopen the ski lifts," Prime Minister Jean Castex's office announced on Monday evening, following a meeting with the winter sport sector.
Faced with rising Covid-19 rates and hospital patient numbers, France has toughened its restrictions in a last-ditch bid to avoid a third nationwide lockdown, including closing non-EU borders and large shopping centres.
But for the moment no ban has yet been issued on travel between regions and ministers said on Tuesday that it was still possible to take a holiday or visit family and friends in a different part of France – while warning that the situation could change quickly.
"At the moment, there are no restrictions on travelling," said Junior Minister Emmanuelle Wargon on Tuesday.
"The holidays can take place," she told French TV channel BFM. "However, of course, as you know, our decisions evolve every day. . . alongside the evolution of the virus," she added. "Things can always change."
Secretary of state of tourism Jean-Baptiste Lemoyne also told BFM: "Today, going on holiday is possible. There are no restrictions on circulating between the regions."
The February school holidays begin in some regions of France on Saturday, February 6th.
"There is a capacity to go on holiday, but it's important to remain vigilant when doing so, like people in France did over Christmas," Lemoyne said. "That means for example not hesitating to get tested if you plan to visit your grandparents." 
But the ministers warned things could change quickly and with Macron holding another Defence Council meeting with top ministers on Wednesday a future lockdown could still be on the cards.
"We will be extremely vigilant… we monitor the health situation every day, the number will dictate the rest," said Lemoyne. "We will update the French as regularly as possible."
Case rates, hospital rates and death rates continue their slow and steady rise in France, though Health Minister Olivier Véran said on Sunday that things were looking better than feared.
The number of new coronavirus cases had barely increased over the past week, he told Le Journal du Dimanche, while other indicators – such as traces of the virus detected in waste water – were also reassuring.
But he too stressed that, if the numbers worsened, the government "won't hesitate" to impose a lockdown.
"We never said we would not re-confine in the coming 15 days if it were necessary," the health minister said.
France's intensive care ward occupancy rate in hospitals stood at 63.6 percent nationwide on Monday, with some regions at the brink of saturation and several hospitals having to transfer patients between regions. 
France also registered its highest hospital death toll in months on Monday, with 456 fatalities due to Covid-19 registered in one day – a number unmatched since November 24th, when the country was under its second lockdown, although Monday tallies can include delayed reporting from the weekend.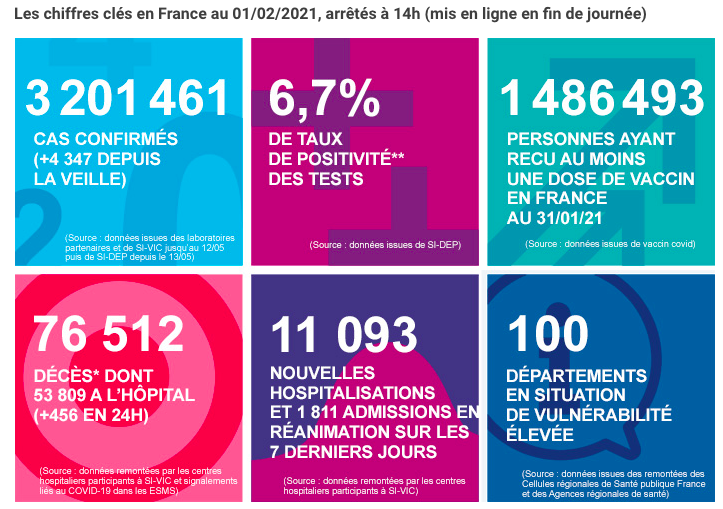 Photo: Santé Publique France
Despite the government's tepid reassurances, the French public seem to be expecting a looming lockdown. Holiday booking rates dropped by 77 percent over the past few days, according to a study by the French holiday company PAP Vacances, published by France Info.
Compared to February last year, this year has seen 58.4 percent fewer holiday bookings for the February break, with the mountineering sector suffering the heaviest loss of 66.9 percent of their clients last year.
The French government has promised the ski sector to strengthen economic aid as compensation for what looks to be a saison blanche – a total write-off of the ski season.