Monday would bring more rain "requiring particular vigilance because it is occurring on often saturated soils," Méteo France said on their website.
A large area southwestern France and the northernmost tip of the country remained on the second highest (orange) alert level for flooding, which means people should careful before moving around and inform themselves regarding the situation in their local areas.
This came after a weekend of heavy rain and flooding in some parts of the country, which saw a 70-year-old man die in the northern region of Hauts-de-France after he went out to watch the river Sambre and was caught off guard by the rising water, according to French media.
Météo France warned of particularly heavy rain in the départements of Aveyron, Cantal, Corrèze and Puy-de-Dôme.
The situation could deteriorate in the coming days, according to Vigicrue, the French public agency monitoring flooding.
"New episodes of rainfall are expected on Tuesday and Wednesday across the country," Vigirue said on their website, warning that rivers all over the country would continue to rise in the coming days.
In Paris, the Seine riverbanks had already spilled over at several points on Sunday, with Parisians walking or cycling finding themselves having to brave the waters.
The graph below shows how the Seine river has risen and fallen the past year, with a notable spike over the past days.
The Seine remained on yellow alert on Monday, alongside many others, and many parts of the river bank have been closed.
Crue de la Seine | Pour la sécurité de toutes et tous, plusieurs secteurs sont actuellement fermés :
➡ Rives de Seine, rive droite : tronçon Tuileries – Henri IV
➡ Tronçon Bir-Hakeim – pont du Garigliano
➡ Île aux cygnes

Toutes les informations ? https://t.co/FOwgLSsjAn

— Paris (@Paris) February 1, 2021
But the south west and north of France were the areas facing the highest risk of flooding, with Vigicrue putting several rivers in these areas at orange alert, the second highest level (one level up from yellow).
Orange alert means the risk of flooding is not just very high, but that it could be potentially dangerous and with seriously detrimental on daily life.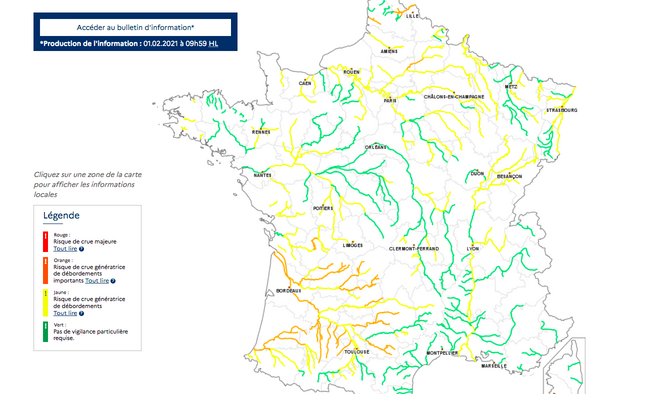 Map: Vigicrue
The weather is predicted to remain rainy and cloudy across the country all week.