The government has said it will announce potential new restrictions in the coming days and that, according to the government's spokesman Gabriel Attal, "all options are on the table," including a "very strict lockdown".
But the current epidemic situation is different from that seen before the first and second lockdowns. Here's a look at what the numbers say.
Cases
The number of new Covid-19 cases remains high and rising. 
Health authorities recorded 26,916 new cases on January 27th, 22,086 on January 26th, 4,240 on January 25th (this was a Monday which normally sees low cases due to testing centres being closed on Sundays) and 18,436 on January 24th.
In a month, the weekly average has increased from around 18,000 new cases per day to 20,000.
"We are not in an epidemic wave, when the virus spreads exponentially like last spring," said Véran, "but we are on a rising plateau, which is increasing by 10 percent per week."
While case rates have not yet exploded, the daily average has reached a level that is four times higher than the threshold of 5,000 cases per day Macron outlined in autumn in order to to reopen restaurants, bars, gyms, cinemas and other closed establishments.
Hospital situation 
Hospitals too are seeing patient numbers increase slowly yet steadily, as shown in the graphic below.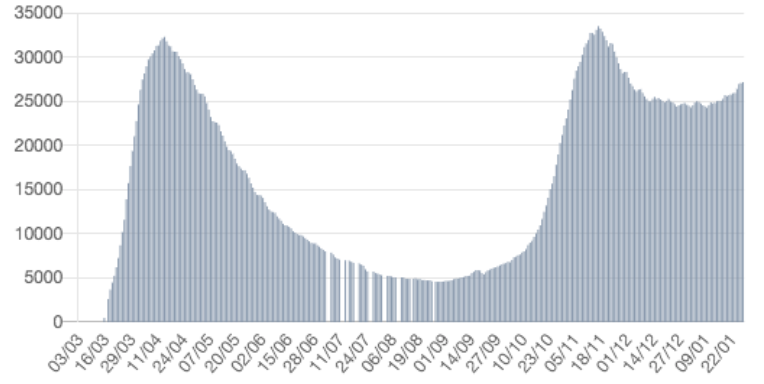 Graphic: French government
France counted 27,169 patients admitted into hospital for Covid-19 on January 27th, 3,107 of which were in intensive care.
On a national level, hospitals are not yet overwhelmed like they were back in spring and again in October, when patient numbers exceeded 30,000 nationwide.
But some intensive care units were approaching a pressure equal to that in October before the second lockdown, Véran said.
"We're nearly at a 100 percent occupancy rate (in some regions)," Véran said, adding that some hospitals had already begun a transferring patients.
The national occupancy rate has risen from 50 percent to over 60 percent in less than a month, as shown in the graph below.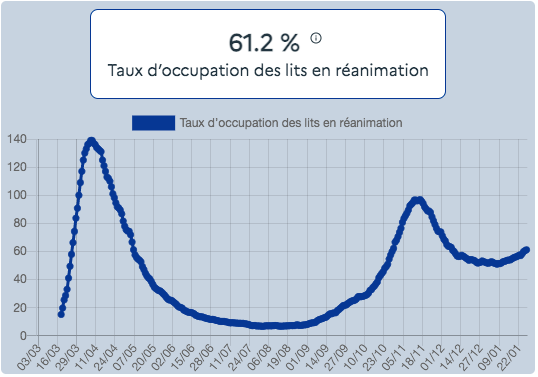 Map: French government
Hospitals say that their staff were already overworked and that a third wave of patients similar to those in spring and autumn would be extremely difficult to manage.
Regional differences 
While the intensive care occupancy rate is 61 percent nationwide, several areas in the east have rates exceeding 70 or 80.
The map below shows in which areas hospitals are suffering heavy pressure (red), moderate pressure (yellow) and light pressure (green) due to Covid)-19.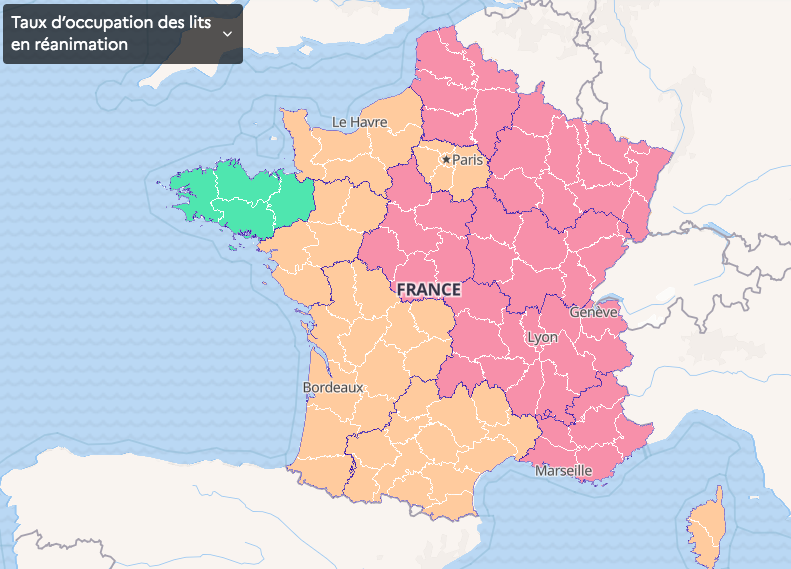 Map: French government
Different regions are also experiencing different levels of spread, as shown in the interactive map below, published by the French public health agency 
Santé Publique France
.
The map has the incidence rate – the number of new cases per 100,000 inhabitants – broken down to a local level. The darker the blue, the higher the rate of Covid positives is. 
New variants 
While the map above is not as dark blue as it has been in the past, authorities worry that the new variants, including the more contagious one first discovered in the UK, soon will change that.
READ ALSO: New 'UK variant' of Covid predicted to be dominant in France by March
Véran said France had gone from registering 500 new cases per day of the new variants in early January to over 2,000 per day now. 
Curfew
He also said the current 6pm-6am curfew was unlikely to be a tough enough measure faced with this new threat.
"The 6pm curfew together with other measures are useful but probably insufficient," he said.
The nationwide 6pm curfew was imposed on January 16th, but several areas imposed it from January 2nd. Macron is said to want to see data from two full weeks of the national curfew before taking a decision on a third lockdown. 
Véran said: "I'm convinced that without the curfew, we would have had a plateau but an epidemic wave by now."
However as shown in the graph below, the curfew had an impact on the areas that imposed it early in January, but that impact has been fading since January 16th.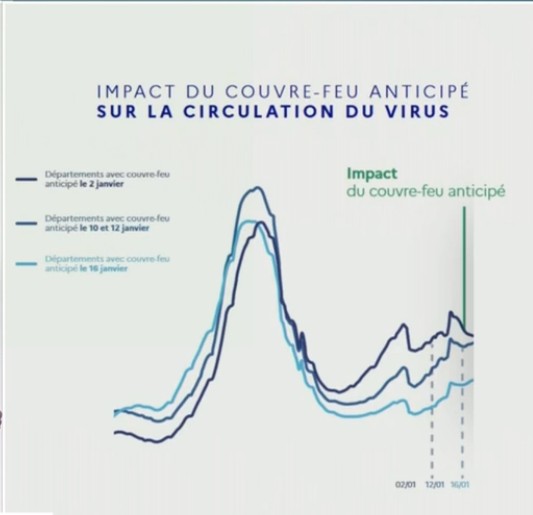 Photo: France Info
Vaccines 
The big hope is that the Covid vaccine will become a game changer this spring.
France had on Wednesday had administered 1,184,510 injections, covering between 0.88 and 1.77 percent of the population, according to French data scientist Guillaume Rozier, who tracks the vaccine progress in France.
As for the population aged over 80, in total 10 percent have got at least one injection (the French government does not yet separate the first and second doses when publishing its vaccine data).
The government's latest timetable has everyone in France who wants it receiving the vaccine by the end of August, but that was published before problems became apparent with the supply of the AstraZeneca vaccine.