"It is possible to think about extending the holidays one way or the other," Gabriel Attal told France Inter radio, while stressing that keeping schools open remained a top priority for the government.
Macron's government will decide in the coming days what steps to take in order to prevent the coronavirus from, once again, spiralling out of control and putting strain on the country's hospitals.
After the first, strict lockdown in spring, the government has said it will not close schools again, reiterating that the social, educational and psychological costs were too high the first time.
ANALYSIS: Is France right to keep its schools open during the pandemic?
When other European countries kept children home after the winter holidays, France reopened schools as planned, while reinforcing the health protocol and announcing a rollout of mass-testing in the educational establishments.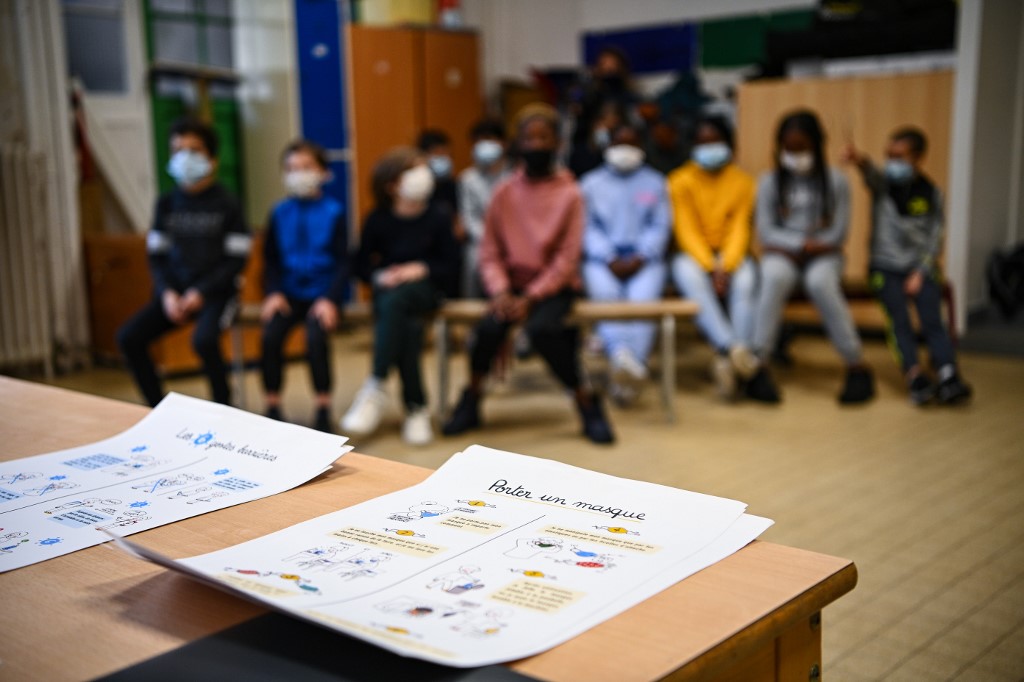 Face masks are compulsory in schools in France for children over 6 years old. Photo: AFP
"We are proud of this choice," said Attal, but adding that "now we are in a particular situation," referring to the new and more contagious variant of the virus first discovered in the UK.
"All scenarios are on the table, nothing is excluded," he said.
.@GabrielAttal : "On a toujours comme boussole, autant que possible, de permettre à nos enfants d'aller à l'école : il est possible de réfléchir à allonger les vacances d'un côté ou de l'autre. Notre objectif reste que les enfants puissent continuer à apprendre " #le79Inter pic.twitter.com/7LyEcvSlsd

— France Inter (@franceinter) January 28, 2021
Schools in France go on holidays at different times in February depending on where in the country they are located. Zone A schools break up on February 6th, zone B on February 20th and zone C on February 13th (see the official calendar HERE).
One of the options to halt the spread of the virus mentioned by Attal would be to move February school holidays "one way or the other" in order to keep everyone at home together at the same time.
"But, again," he said, "our objective remains that children can keep learning."
Health Minister Olivier Véran will hold a press conference at 2pm on Thursday to give a general update on the Covid situation in France, but he is not expected to announce changes to the current health rules.
The government will announce a new press conference, possibly by the president himself, at the end of this week or early next week.
READ ALSO: Decision on third lockdown in France to be made 'in coming days'