On December 5th 2019, 806,000 protesters took to the street across France to protest againt proposed pension reform, 65,000 of them Paris, according to the French interior ministry.
But unions claimed the national turnout was nearly twice as big: 1.5 million protesters, with 250,000 protesters parading in the capital.
This kind of disagreement is the rule rather than exception in France. For decades, protest organisers and officials have been unable to agree on even a rough ballpark figure for the turnout of protests, strikes and rallies.
Despite the two parties providing two different truths, this has become so common that French media generally state the official number first, followed by the organisers' own estimates (often in brackets).
Here's a look at why they cannot seem to agree.
1. Because it's very difficult to count a protest
Counting protesters is of course not an exact science.
This problem was made especially clear during the 'yellow vest' protests in 2018/2019. The 'yellow vests' were a social movement unlike anything France had seen before. Contrary to the well-established labour unions with a long tradition of organising fastidiously planned street protests, the 'yellow vests' were unpredictable. They would begin a protest at different departure times and spots, spread out and crowd together in a sporadic manner, and march so speedily that it was difficult to keep up with them – let alone count them.
But counting a protest is a tricky task, even well-organised or static ones.
"It's impossible for a human brain to count some hundred, sometimes several thousand people who are on the move in real-time," Assaël Adary, the president of the independent counting bureau Occurence, told French TV channel 
BFM
 in 2019.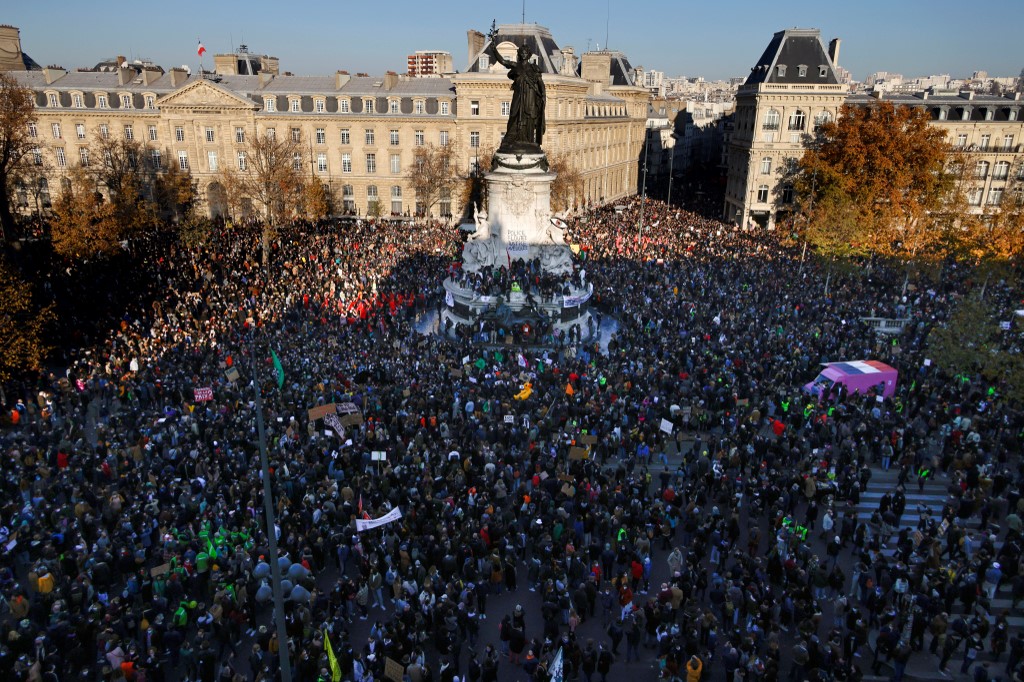 Counting big crowds is extremely difficult. Photo: AFP
2. Because there are different ways of counting
During protests, the interior ministry will publish estimates of the turnout. These numbers have been collected by the police, who count lines of 10 protesters from different geographical points on the protest route, and 
add them together
. They do this several times and then compare the different estimates, take the average and increase it by 10 percent in order to allow for margin of error. It's a complicated, old and "very reliable" practice, a police spokesperson told BFM.
Unions, on the other hand, have less resources and therefore have to use different ways of counting. Sometimes they estimate the turnout depending on how many people fit into the streets or how long it takes for a march to go from one point to another. Back in the day, well-established unions could be able to make an estimation based on the number reserved in their cars, but it's more difficult to do that based on the number of attending a Facebook event.
The independent bureau Occurrence, established by a collective of 80 French media organisation in 2018 to provide an alternative to the numbers provided by the government and activists, uses an automatic method based on images of the protesters and an algorithm. It's a method similar to those used in airports and museums.
Out of 30 protests, Occurrence's numbers generally were 15 percent higher than those provided by the police and 250 percent lower than those provided by organisers, according to French daily
Le Monde
, one of the groups financing the independent bureau.
Not even images taken from above always give an accurate idea of the situation. The video below show an impressive turnout for a Black Lives Matter protest at the Place de La République in Paris the summer of 2020.
But TV images from a bit further north at the same area showed that the place was not as densely crowded, meaning an estimate based on the size of the area would likely be inaccurate.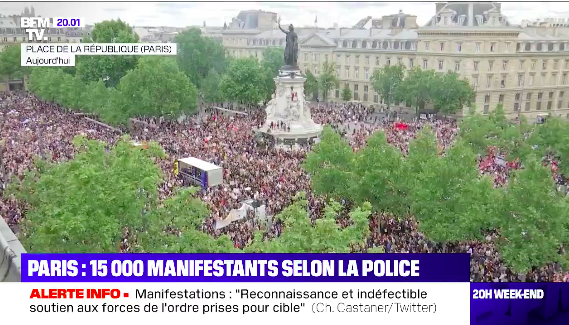 Photo: Screenshot BFMTV
3. Because numbers are political
There are multiple conspiracy theories linked to these numbers.
French authorities are regularly accused of deliberately underestimating the numbers in order to discredit social movements, while police have been said to only count the roads and leaving out the sidewalks to shrink the numbers.
Unions, on the other hand, have been said to knowingly cheat and boost their own numbers to promote their cause.
Occurrence's data would seem to suggest that authorities are more reliable – but the group itself has been accused of having links to the ruling party La République en Marché and of underestimating its own margin of error.
So what is true?
What we know is that – at least according to the most recent independent study on the topic, published by the EHESS business school back in 2015 – police are the best at counting.
While the police's method had an "inevitable margin of error" of around 10 percent, it was much more accurate than the one of organisers, which contained "too much of a bias," the scientists told French media back then.
These findings were backed up in an older attempt by Mediapart, an independent investigative French media, to count a protest in 2010.
Mediapart's own estimate was much lower to that of the unions, but also lower than that of the police – a finding that surprised the media itself.
As for Occurence, their method has been widely criticised for being imprecise, and the bureau says it continue to work to make up for their margin of error.