"Another lockdown imminent" announced the front page of the Journal du Dimanche on Sunday, quoting government sources as saying that Macron would make another TV appearance this week to announce a third lockdown for the country.
Although stopping short of an official announcement, people took notice because an interview or off-the-record briefing with the JDD has traditionally been a favoured way for the government to introduce new policies.
The article was followed by an appearance on BFMTV by Jean-François Delfraissy, the head of the advisory Scientific Council, saying that it "will probably be necessary" to impose a third lockdown and that this week will be critical for decisions.
But on Tuesday morning French media reported that Macron would not speak this week after all, preferring to hold off the decision for a bit longer.
"We need to be certain that there are no other solutions than lockdown," an Elysée source told BFMTV, echoing a report by France Info.
So what can we expect to happen this week?
However, previous presidential speeches have only had a couple of days' notice and nothing will be set in stone before the scheduled Defence Council on Wednesday morning.
Government spokesman Gabriel Attal, appearing on TV over the weekend, said that nothing was planned at this stage, but added that "all options are on the table".
One crucial piece of information for the Council to study will be what, if any, impact the 6pm curfew is having as we enter the second week of the nationwide measure.
In a Q&A session with readers of Le Parisien, Health Minister Olivier Véran said: "We are waiting to see the effects of the curfew, which will be apparent this week. 
"If infection rates don't go down, if the variants start to spread everywhere, then we'll take additional measures, obviously – namely lockdown."
This was echoed Monday by Prime Minister Jean Castex, who said "all indicators are worrying".
"Decisions will have to be taken this week," he told media during a meeting with the regional health agency ARS Ile-de-France, in Paris.
France on Monday exceeded 3,000 patients admitted into its hospital intensive care units for the first time since during the second wave of infections in autumn, after weeks of a slow, yet steady increase in hospital admissions.
'Circuit breaker'
If lockdown is introduced, it is likely to be a shorter term measure aimed at halting the rise of cases before a critical situation is reached.
When France's second lockdown was introduced in October, new cases stood at 50,000 a day and hospital intensive care units were above 95 percent capacity.
In comparison to that, the current situation is not all that bad – the weekly average of new cases stands just under 20,000 a day and ICU occupancy is at 59.9 percent (although rising).
READ ALSO IN NUMBERS Is France heading for a third lockdown?
Compared to the rest of Europe, France is also in a better position in terms of case numbers, deaths and the hospital situation.
Delfraissy said in his TV interview: "We are the country in Europe at the moment, along with Italy, in the best health situation."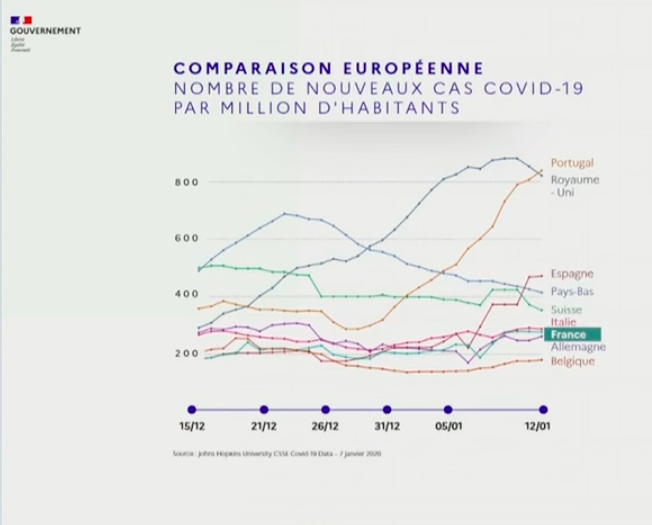 Case numbers per million inhabitants up to January 12th. Graphic: Health ministry
However he added a crucial caveat: "This is a false sense of security, the situation is not going to be able to continue because of the variants that are spreading and causing the equivalent of a second pandemic.
"While we are in an apparently relatively stable situation, if we continue without doing anything more, we will find ourselves in an extremely difficult situation, like other (European) countries, from mid-March."
The French government has been looking nervously across the Channel at the situation in the UK, where daily death tolls have topped 1,000 for more than a week, as the variant anglais (the new variant of Covid first identified in the UK) shows increasing growth in France. Modelling has predicted that at the current rate, this variant will be the dominant one in France by March.
For these reasons what is being proposed is a shorter lockdown – three weeks has been floated – to stop the spread in its tracks, rather than lockdown imposed once the situation is already critical as was the case with the previous two.
Schools
One major reason for opting for a pre-emptive lockdown is to try and keep schools open.
The French government has always said that shutting schools again would be a last resort, and French schools stayed open during the second lockdown.
There is some evidence that the variant anglais affects children more, and schools in many European countries have had to close again.
In France there are strict mask rules in schools and at the start of January a mass testing programme was rolled out. The government hopes that these measures combined with a 'circuit-breaker' lockdown will be enough to simultaneously keep the virus under control and the nation's schools open.
Other measures
If the government steps back from reimposing lockdown this week, what are their other options?
The whole of mainland France is currently subject to a 6pm-6am curfew and bars, restaurants, cafés, gyms, museums, cinemas, theatres and tourist attractions have all been closed since October. The next review date for these is February, but several ministers have said that in reality these are highly unlikely to reopen before the spring.
There are also strict border controls in place with all non-essential travel banned from outside the EU (including the UK) and a requirement for testing and quarantine for people who do travel. Since Sunday, a negative Covid test is also required for all arrivals by air and sea into France from within the EU.
Given all these, it's hard to see what other measures the government could impose if it stops short of lockdown.
Schools could be closed – although as discussed that has always been seen as a last resort – or non-essential shops could again close.
If lockdown is imposed, it is likely to be along the slightly more relaxed model of the October lockdown, rather than the strict lockdown of the spring.
Vaccines
On Saturday France passed the 1 million mark for people who have received the first dose of the vaccine. After an extremely sluggish start at the end of December, the pace has picked up in recent weeks with the opening of hundreds of vaccine centres.
The health minister has laid out a revised timetable for vaccination which has everyone in France who wants the vaccine receiving it by August. More recent polls have also shown a fall in the vaccine scepticism which had worried authorities and health experts.
However, while the vaccine programme is crucial, it will not affect infection rates and the hospital situation over the next few weeks.