A slow but steady increase in most of the key health data in France has left many resigned that a third lockdown is a case of when, rather than if.
In the latest health briefing on January 14th, the government decided against reimposing lockdown and instead imposed a 6pm to 6am curfew on the whole of mainland France in an attempt to keep case numbers under control.
On top of this bars, restaurants, cafés, gyms, museums, cinemas and theatres all remain closed until at least February and restrictions have been tightened on arrivals from the UK in an attempt to contain the new variant of the virus first identified there. Ski resorts are also likely to remain closed for the rest of the winter.
So what does the latest data tell us about the direction things are heading in?
Cases
While France dodged the feared post-Christmas spike in cases, the number of daily new positives remains high – and rising.
Health authorities recorded 26,784 new cases on January 20th, 23,895 on January 19th, 3,798 on January 18th (This was a Monday which normally sees low cases due to testing centres being closed on Sundays) and 37,405 on January 17th.
As daily case numbers fluctuate due to reporting lags, weekly averages give a more accurate picture of the viral development. France has registered around 18,000 new positives on average per week several weeks in a row, but over 19,000 this week. That is more than three times the government's goal of 5,000, the threshold set in autumn for reopening restaurant, bars, gyms, cinemas and other closed establishments.
Between last week's average of 17,832 cases daily and this week's average of 19,239, there has been a 7.9 percent increase.
More than just an increase in cases, that points to an increase in the growth rate compared to the week before. According to French data scientist Guillaume Rozier, who crunches Covid-19 numbers on his Twitter account CovidTracker, case numbers increased by 1 percent between January 10th and 16th.
"It is increasing slowly, it will increase rapidly," Renaud Piarroux, epidemiologist at the Pierre Louis Institute and department chief at the Pitié-Salpêtrière hospital, told France Info on Thursday morning.
Piarroux was pointing out the new threat, which also has authorities extra worried, posed by the new and more contagious variant first discovered in the UK.
READ ALSO: New 'UK variant' of Covid predicted to be dominant in France by March
Hospital situation
The rise in cases is also problematic as these numbers will reflect onto the level of new hospital patient admissions, and hospitals have been under pressure from Covid since October.
After France imposed a second lockdown October 30th, hospitals first saw the number of patients drop, but since mid December the numbers stagnated.
For the past few weeks, the trend has been a slow and steady increase, as shown in the graphic below.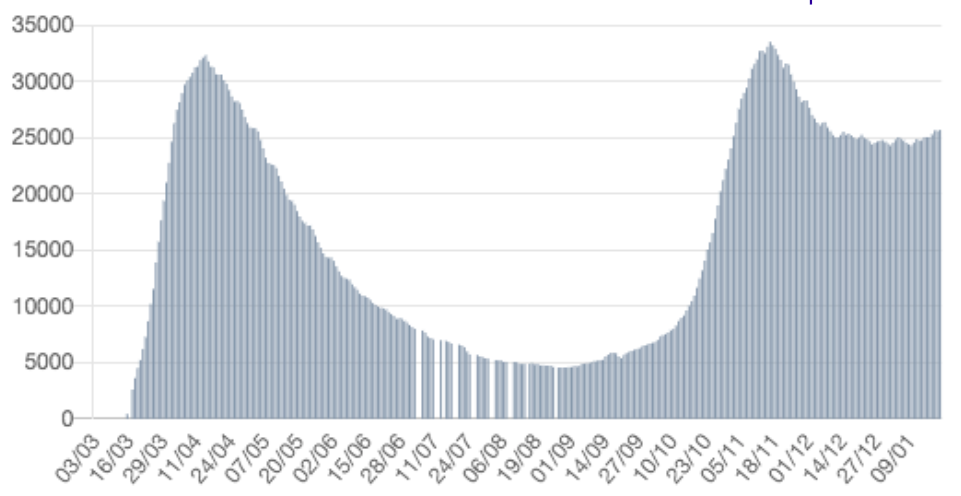 Graphic: French government
France on Wednesday counted 25,686 patients hospitalised for Covid-19 in total, after 1,907 new patients were admitted that day (81 more than were admitted on Tuesday). 
Looking at the weekly average, hospital admissions for Covid-19 increased by 16 percent between January 10th and 16th, according to CovidTracker.
Admissions à l'hôpital toujours en hausse. Ce qui pourrait traduire une hausse des contaminations entre fin décembre et début janvier. pic.twitter.com/Z6fGVtHgrb

— GRZ – CovidTracker (@GuillaumeRozier) January 19, 2021
The trend has been similar for hospital intensive care wards.
France on January 20th counted 2,852 Covid-19 patients in its intensive care wards, up from 2,839 the day before. While the current number is significantly less than the over 7,000 patients in mid April during the first wave of the virus, it's still putting hospitals under pressure – Covid-19 patients occupy 56.2 percent of the country's total intensive care capacity.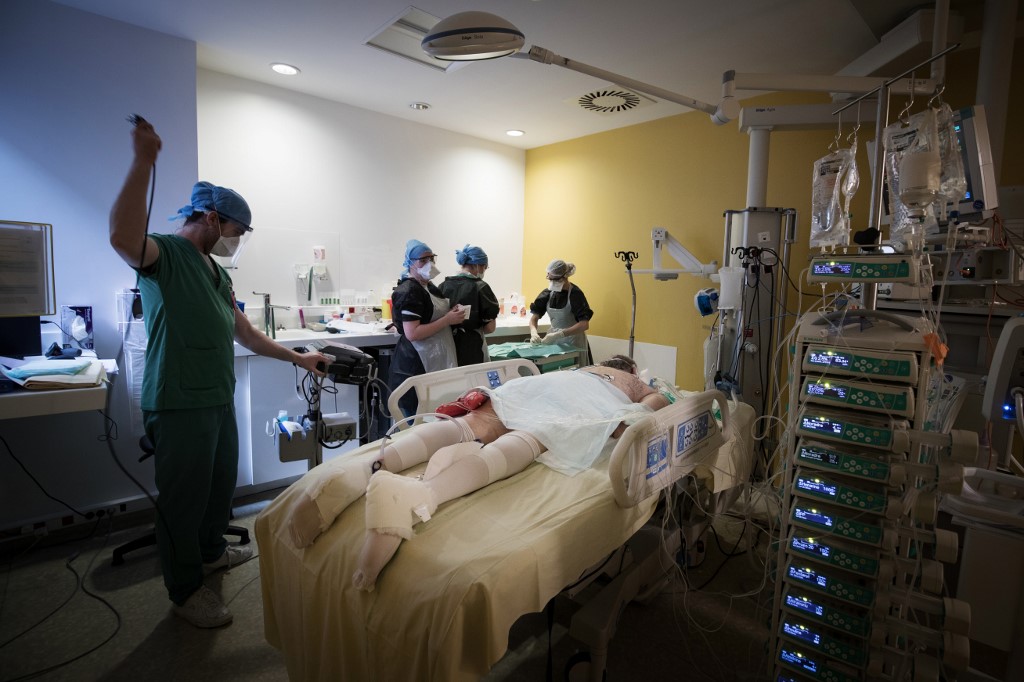 Health personnel tend to a patient infected by Covid-19 in the intensive care unit of the Lariboisière Hospital in Paris. Photo: AFP
The graphic below shows that intensive care numbers too are on a slow, yet steady, rise, up from 2,582 on January 7th to the current level. In the week leading up to January 19th, they grew by 13 percent, according to Rozier's estimations.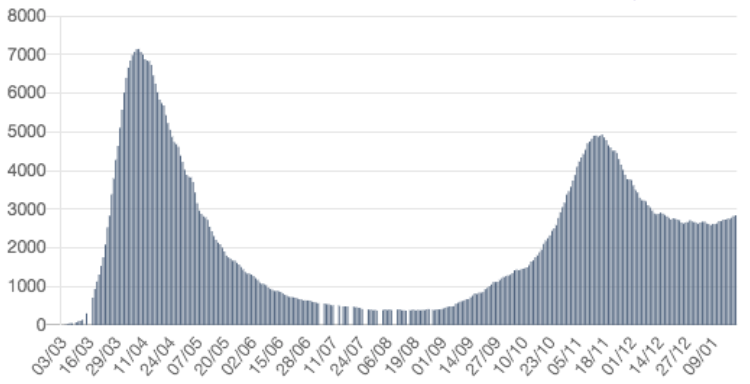 Graphic: French government
Intensive care numbers are the last to rise before deaths, and it takes two to three weeks before a spike in cases eventually translates into a rise in intensive care numbers. This is why the government wanted to act to stem cases earlier rather than later, to prevent another viral explosion like the one seen in October.
MAP: How France's Covid-19 second wave exploded in just one month
Regional numbers 
The situation is however not the same across the country. 
The latest phase of Covid-19 split has France in two, with the eastern part of the country being much harder hit than the west.
The map below, which shows the current intensive care rate occupancy in the different areas of the country, illustrates this divide.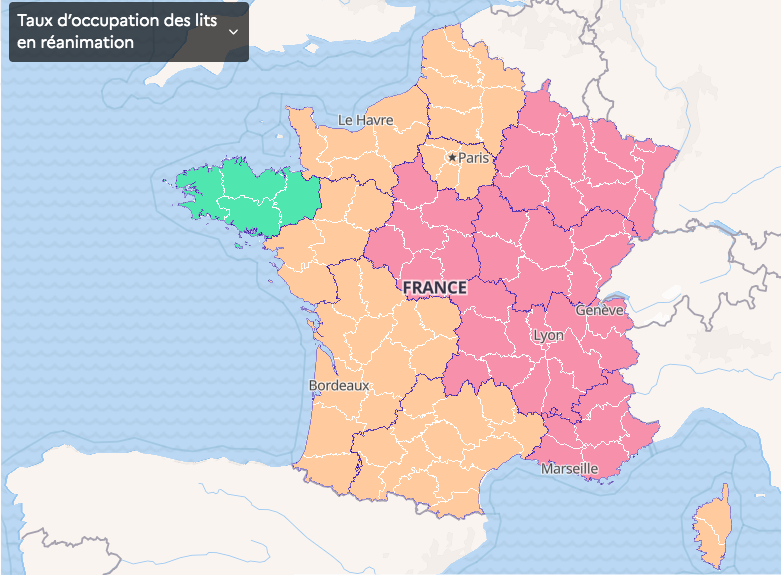 Map: French government
The red parts have so many Covid-19 patients in their intensive care wards that they are at the point of saturation, while the yellow parts have an occupancy rate of between 30 and 50 percent. The green part around Brittany is the only area with relatively low numbers of Covid-19 patients.
The incidence rate – the number of new positive tests per 100,000 inhabitants on average in the preceding seven days – also varies across the country.
The interactive map below, collected from 
Santé Publique France
, has the incidence rate broken down to a local level. The darker the blue, the higher the rate of Covid positives is. 
Note that this map was based on the weekly average collected between January 11th and 17th, so the level will likely be even higher across the country today.
Most of the areas experiencing a very high levels of spread (above 250 per 100,000 inhabitants) were found in the east of the country, with the départements Haute-Saône, Doubs and Jura around Dijon reporting incidence rates of 256, 259.2 and 317.6 respectively.
Provence and the areas bordering on Italy also have struggled with rising spread. Hautes-Alpes reported an incidence rate of 263.1, Alpes-Maritimes even higher – 430.8 – and Var, around Marseille had a rate of 293.7.
Drôme, Vaucluse and Bouches-du-Rhône, a bit further west, also reported high rates of 253.6, 264.5 and 326.3. 
But the west too saw case numbers rise, with the département of Tarn, in the southwest close to Toulouse, recording an incidence rate of 262.4. Deux-Sèvres, had one of 268.1.
Somme and Meuse, in the north and the northeast, recorded incidence rates of 281 and 253.2 respectively, while Nièvre, a département in the eastern part of the centre, had one of 255.5.
The curfew
Regional differences are also important for predicting the impact of the current curfew. When France tightened its restrictions last week, pushing back the nighttime curfew from 8pm to 6pm across the whole country, it was a somewhat controversial move.
Critics said there was no evidence that adding two more hours of curfew would efficiently stem the spread, and some pointed out that it could even be counterproductive, by causing more crowding on public transport and in supermarkets in the late afternoon.
By now there is data available to see what impact the curfew has had in those 10 particularly hard-hit départements in the east of the country, which imposed a 6pm curfew at the beginning of January.
Rozier, the data scientist, pulled data to analyse the impact of the 6pm curfew in those areas, and what he found was promising.
Areas that imposed a 6pm curfew in early January saw case numbers drop by roughly 4 percent between January 2nd and 12th, while the others experienced a rise of around 20 percent.
Voilà ce qu'il se passe si on normalise, en mettant sur un pied d'égalité tous les départements au 02/01.

Les départements en couvre-feu renforcé ont baissé de 4% environ depuis le 02/01, les autres ont augmenté de plus de 20%. On semble voir un décrochage vers le 5-7 janvier. pic.twitter.com/ZIJ6EIu3iB

— GRZ – CovidTracker (@GuillaumeRozier) January 19, 2021
Whether the curfew will have the same impact on the rest of the country, remains to be seen.
"As the measure was taken on January 16th. . . we will begin to see the impact from January 25th," Damien Mascret, a doctor and journalist, told France 3, explaining that it took nine days before the results would show.
The 'English variant'
"The question is: will it be enough?" Jean-Stéphane Dhersin, of Scientific Deputy Director at the research institute Insmi-CNRS, told Le Parisien.
There is a new variable at play that make scientists question whether a curfew can prevent the virus from spiralling out of control again.
The new variant of the Covid-19 virus first identified in the UK – known in France as the variant anglais or variant brittanique – has been greatly worrying health officials as it seems to be a lot more contagious.
The graphic below shows how the virus exploded in the UK, which had to take drastic measures including stay-at-home orders and school closures to decrease the spread.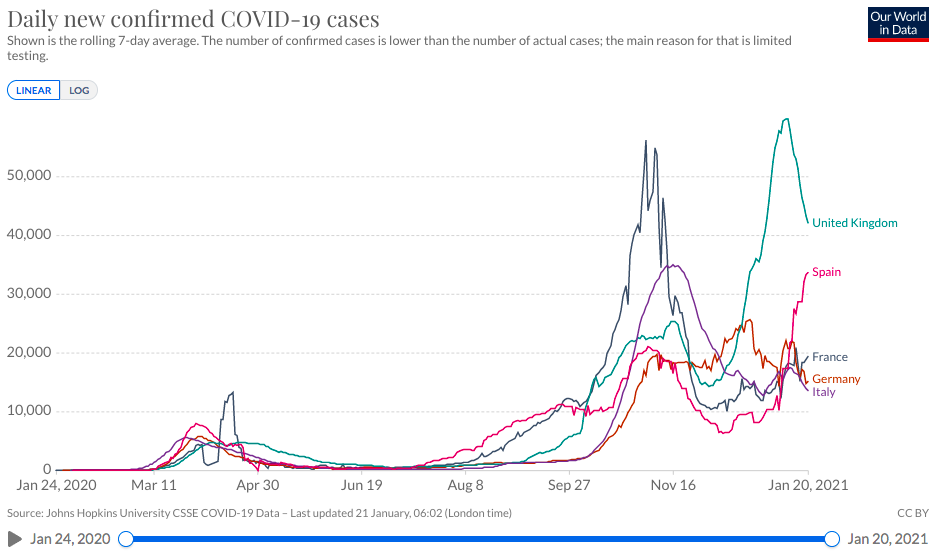 Graphic: Our World In Data
As cases of this variant have appeared across Europe, other countries including France worry that their epidemic curve could take a similar turn.
France has greatly tightened restrictions on travel from the UK in an attempt to contain the spread of the variant, and also issued revised advice on masks, stating that fabric masks do not provide enough protection against the more contagious variant.
Vaccine
Of course, there is hope. France has begun its vaccination programme, albeit more slowly than other countries, and the Pfizer/BioNTech vaccine that is currently injected seems to be efficient against the new variant as well.
On Wednesday, France had vaccinated nearly 700,000 people after more than 100,000 over-75s and other priority groups received their dose on that day.
That meant France had vaccinated more than 1 of the 60 percent needed in order to achieve herd immunity.
READ ALSO How to book an appointment for the Covid-19 vaccine
VaccineTracker, a tool also developed by the data scientist Rozier, illustrates the pace of the French vaccine programme in squared. When the red squares all turn green, France will have achieved herd immunity.
What about lockdown?
But the vaccination process is still slower than the spread of the new variant of the virus, which scientists have said will be dominant in France by March, which has left many people bracing themselves for a third lockdown. 
"We won't escape another lockdown," Piarroux, the epidemiologist and doctor, told France Info, urging the government to re-confine the population "earlier, more efficiently, quicker."
"The problem is that if we wait," he said, "the lockdown will have to last until the hospitals are able to breathe again. And that's a long time. . . We're talking months, two months."
If, on the other hand, the government imposed a lockdown straight away, "we will decrease the spread and we could get through the end of the winter better."
In its January 14th briefing, the government said that at present the conditions did not merit another lockdown, but Prime Minister Jean Castex added: 
"If the epidemic situation sharply deteriorates. . . we will immediately have to decide to impose a new lockdown."