Health chiefs in France have been nervously watching of progress of the variant anglais – as the new variant is known in France – which is more contagious than previous incarnations of the virus.
But what is not certain is whether the growth in cases of the variant in France will lead to the same explosion of cases as seen in the UK in recent weeks.
France's Institut national de la santé et de la recherche médicale (National institute of health and medical research, known as Inserm) says that based on its modelling, the new variant of the virus will become the dominant one in France between the end of February and the middle of March.
Not all PCR tests taken in France are genetically sequenced to establish which variant of the virus the patient has, so Inserm conducted a 'flash survey' over January 8th and 9th to determine how many cases of the new variant exist in France.
The data showed that between one and two percent of cases currently recorded are the variant anglais, roughly tallying with the estimate offered by Health Minister Oliver Véran in his briefing on January 14th when he said France was recording between 200 and 300 cases of the new variant per day (out of a daily tally of 18,000).
While this doesn't sound like much to worry about, the new variant seems to be more contagious – between 50 and 70 percent more – so modelling suggests that this number will rapidly rise.
If the 70 percent figure is correct, the new variant will become the dominant form of the virus (more than 50 percent of patients) by the end of February or early March. If it is nearer 50 percent, that will add another two weeks to the timetable, Inserm concluded.
The modelling data includes only the UK variant, and not the other new variant discovered in South Africa.
"These results show the need to reinforce social distancing measures and to accelerate the vaccination campaign to face the threat of the VOC variant," said an Inserm spokesman.
The new variant does not seem to cause any more serious symptoms but its contagiousness can lead to a higher number of cases overall and further pressure on hospitals.
The UK, which first identified the new strain, has seem a grim health situation with more than 50,000 new cases of the virus a day and death rates topping 1,000 people per day for over a week. The country is also experiencing extremely severe pressure on its health services.
The situation in France is – for the moment – not as bad, with daily new case numbers standing at an average of 18,000 a day and death rates at an average of around 300 a day.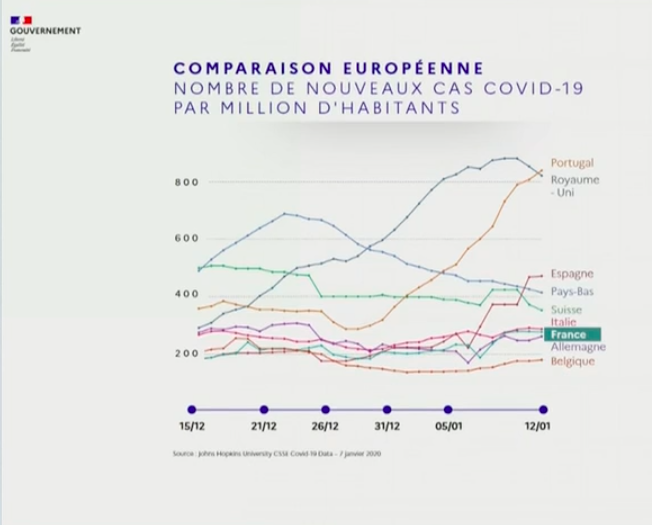 Case numbers per million people in France v the rest of Europe as of January 12th. Graphic: Health ministry
There has however in recent weeks been a slight but steady increase in case numbers, while in recent days hospital occupation rates have also begun to rise.
In response, France has tightened its restrictions, imposing a 6pm to 6am curfew across the whole country, while stopping short for the moment of a full lockdown.
Head of the Scientific Council Jean-François Delfraissy, who has previously declared himself "worried" about the UK variant, said: "If we do nothing, if we don't take decisions very quickly, we will have an expansion of the English variant.
"The question is not to block it, but to slow it down".
Travel from the UK has also been strictly limited, with only certain types of essential travel allowed and all arrivals requiring a negative PCR test before travel. All types of travellers apart from hauliers also need to self-isolate for seven days on arrival in France and then get a second test.
READ ALSO UK travel ban: Who can travel and what documents do they need?
The French government hopes that these measures will prevent new cases of the variant being imported from the UK and will doubtless be hoping that its domestic restrictions will be enough to keep cases in France under control.
Only time will tell.