The rollout of the vaccine in France is done in a strict order of priority, with those most vulnerable to developing severe forms of the virus going first.
Vaccination continues of residents and staff in Ehpad nursing homes, and health workers aged over 50.
From Monday, January 18th, over 75s can start being vaccinated, but on Thursday Health Minister Oliver Véran announced that anyone in a high risk group – such as those with serious health conditions – could also be vaccinated from Monday.
The government has been severely criticised for the slow start to its vaccine campaign, but this has picked up in recent days and 247,167 people have now received the first dose of the vaccine, and the government saying it is on course to have 1 million people vaccinated by the end of the month.
In total 6.4 million people will be eligible to be vaccinated from Monday, including an estimated 800,000 under 75s with severe health conditions including kidney failure, cancer or transplant patients.
Over 75s can make an appointment directly with a vaccine centre, but people under 75 will need to visit their doctor first to get a prescription for the vaccine.
People can book online at sante.fr, via the medical app Doctolib or by phone on 0800 009 110.
For full details on how to make an appointment, CLICK HERE.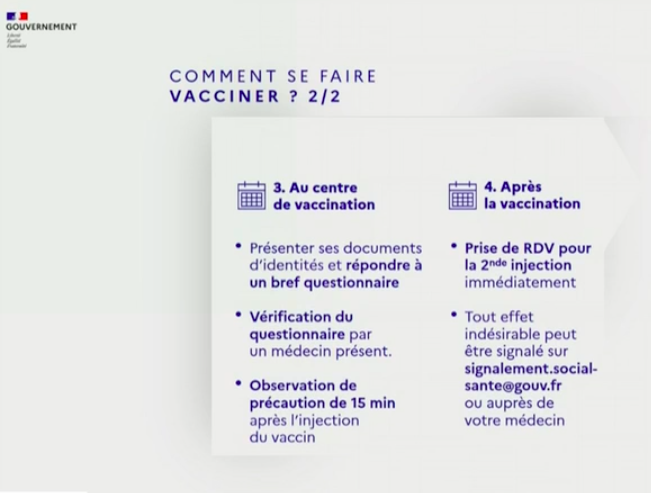 Graphic: Health Ministry
Booking opened on Thursday for appointments from January 18th, although the sante.fr site almost immediately crashed. Véran said it has received 8,000 connections per second in the morning, but has now been reinforced and will be up and running by 8am on Friday, along with the phone line.
The next group to be called to be vaccinated will be the 65-74 age group and this will happen in February, although no exact date was given.
Véran defended the strategy of prioritising the most vulnerable, saying that it wasn't possible to vaccinate everyone at the same time and that people would have to "be patient".
France has historically high levels of vaccine scepticism, but polls in recent days show the number of people who say they intend to be vaccinated is rising and now stands at around 47 percent, up from 38 percent the previous week.
READ ALSO ANALYSIS How worried should France be about its vaccine sceptics?