The French government will hold a press conference on Thursday at 6pm to discuss the latest health situation and the possibility of introducing extra restrictions.
New data
There are two key bits of information that the government has been keenly focused on this week – any evidence of a 'Christmas spike' in cases and the prevalence of the new Covid variant – le variant anglais as it is known in France – which is said to be more infectious.
Cases numbers have been rising in recent days, yesterday 19,752 new cases were recorded and weekly average figures have risen from roughly 13,000 a day in December to above 18,000 a day. There does not so far, however, appear to be evidence of a marked spike linked to travel and socialising over the Christmas holidays, but more data will be available on Thursday.
Likewise the government is nervously tracking the progress of the variant anglais, with clusters identified in multiple towns and estimates of several thousand cases in France. Travel from the UK has been heavily restricted since December 22nd, but there are concerns that the virus could have been circulating in France before then.
Jean-François Delfraissy, the head of France's Scientific Council, has declared himself "very worried" about the new variant.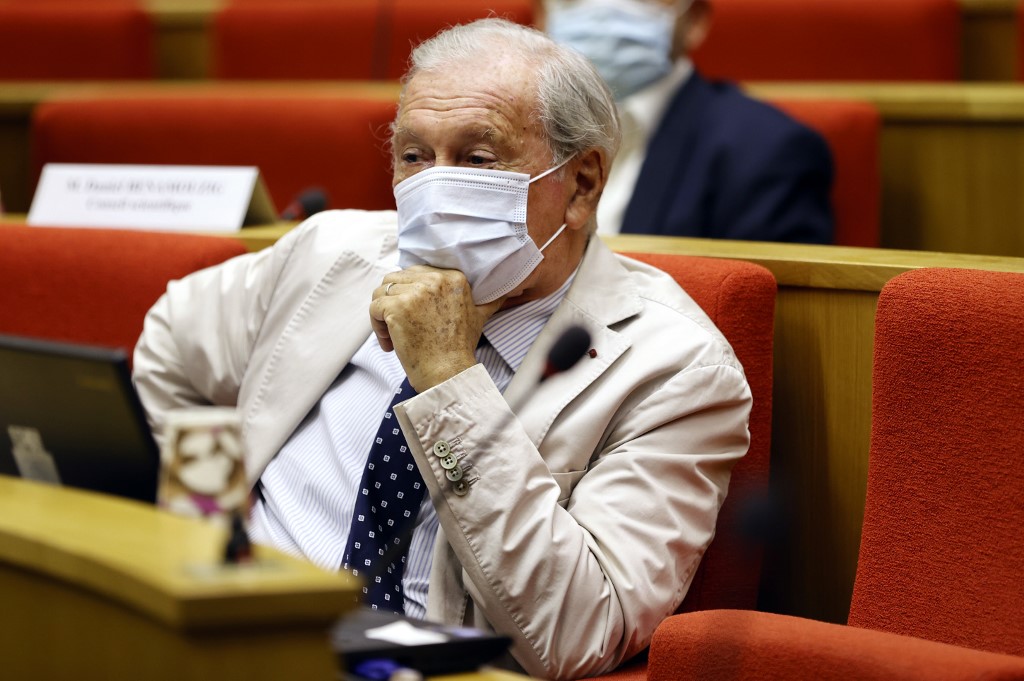 Jean-François Delfraissy, head of the advisory Scientific Council. Photo: AFP
Actions
After examining this data, the government will the need to make decisions on what health restrictions are needed to contain the situation.
The reopening of cultural centres likes cinemas and theatres, scheduled for January 7th, has been postponed and the reopening of bars, restaurants and gyms, which had a tentative date of January 20th, has also been put back until at least February.
In 25 départements with high rates of Covid cases and pressure on hospitals an earlier 6pm curfew has been introduced while the rest of the country remains under an 8pm-6am curfew.
MAP The 25 départements of France with a 6pm curfew
The government will need to decide if these measures are adequate to contain cases or whether new ones are needed.
Here are some of their options:
Lockdown
The government could opt for a third lockdown. France imposed its second lockdown in October, earlier than most other European countries, and is as a consequence seeing better numbers than many of its neighbours.
The second lockdown ended on December 15th, although many restrictions remain in place. 
Prime Minister Jean Castex says that all options remain on the table, but government spokesman Gabriel Attal told Europe 1 radio: "At this stage, there is no reconfinement planned".
Expert opinion seems quite divided on the subject. Several epidemiologists have called for a third lockdown, with Eric Billy, a researcher in immuno-oncology and member of the Du Côté de la Science collective, declaring: "The third wave is coming, it's too late. All that's left to do now is to hit the emergency brake and lock down again."
On the other hand, other experts argue that it is too early to take such drastic action.
Delfraissy, whose committee provides scientific advice to the government, has said that he does not believe now is the moment for a third lockdown, but that tougher measures should be discussed.
He said: "It's a paradox in France, we are in a better situation than other European countries, but the figures are stagnating."
When France imposed its second lockdown in October cases were at 50,000 a day – significantly higher than the 23,852 reported on Wednesday.
Local lockdown
If a new nationwide lockdown is ruled out, then local restrictions could be put in place.
At present the situation is markedly worse in several areas of eastern France than in the centre or west of the country.
In the Grand Est, Bourgogne-Franche-Comté and Auvergne-Rhône-Alpes regions case numbers are high and pressure on local hospital services severe – hospitals in Auvergne-Rhône-Alpes have already begun transferring patients to other areas because of the pressure on services.
The southern towns of Nice and Marseille are also causing concern.
The earlier 6pm curfew is already in force in 25 départements but this could be extended or other local restrictions put in place.
The government tried localised restrictions over the summer and it was not very successful, but local authorities in some badly-affected areas are already calling for extra restrictions or local lockdowns.
Weekend lockdown
According to Le Figaro newspaper, another option on the table is a weekend lockdown, with curfew remaining in place during the week.
The idea is to keep the economy and schools running relatively normally during the week, but prevent people from gathering for social reasons at the weekend.
Curfew
According to the latest reports in French media, this is the most likely option.
France remains under a nationwide 8pm to 6am curfew which has been extended past its original end date of January 20th.
However 25 départements have an earlier 6pm to 6am curfew and the government is considering extending this to the rest of France.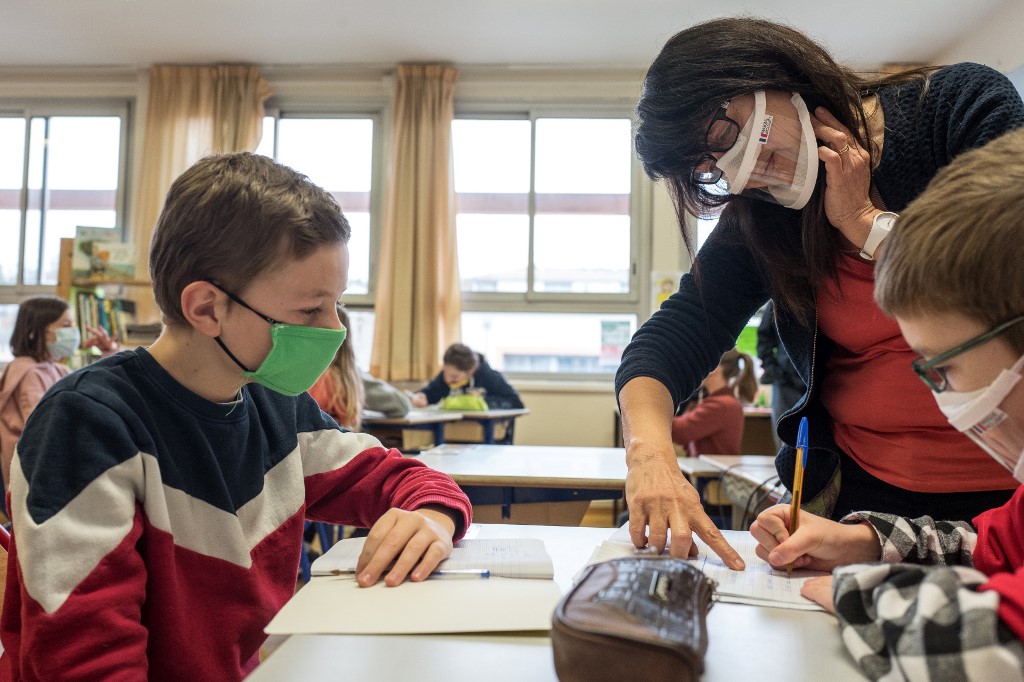 Teachers and all pupils older than six wear masks at school. Photo: AFP
Schools
Amid discussions of whether schools should close, Delfraissy says the Scientific Council recommends that they stay open, but with extra health precautions in place.
France kept its schools open during the second lockdown, and president Emmanuel Macron has several times said that closing schools again would be an absolute last resort, pointing out that closures most impact pupils in disadvantaged groups.
READ ALSO ANALYSIS: How France has managed to keep its schools open during lockdown 
French schools already have a lot of health protocols in place including strict mask-wearing rules for teachers and pupils over the age of six.
However other measures being considered are the closure of school canteens and the suspension of sports and activities.
Delfraissy said individual classes should close down immediately at the appearance of a Covid-19 case among the pupils, if the case in question was of the variant first discovered in the UK. Currently the threshold for the entire class to close down is three Covid cases.
Travel
Entry to France from the UK is currently heavily restricted and a negative Covid test is essential to enter the country. These rules will remain in place 'until further notice' the Prime Minister announced on January 7th. However, travel from within the EU and Schengen one carries no such requirements.
France could opt to impose a testing regime on arrivals from all countries.