The decision clears the way for a second option in an inoculation campaign that has been assailed by critics as lagging far behind those of its neighbours.
It added that the Moderna shot could also be used for people over 75, since data so far suggest an 86 percent effective rate for the elderly, compared with 94 percent efficiency for younger adults.
The Moderna vaccine presents fewer logisical challenges than the BioNTech vaccine, since it doesn't have to be stored at very cold temperatures.
The government's "vaccine czar," Alain Fischer, told BFM radio that the first deliveries of the Moderna shots "should occur in the coming days, or the second half of January at the latest".
After a slow start to its vaccine campaign, the French government has now laid out plans to speed things up and expand the programme.
In total 45,000 people have ben vaccinated in the last five days – including health workers, emergency workers, home helps and residents of the country's Ehpad nursing homes.
From next week, anyone over 75 will be able to make an appointment online or by phone to receive their injection.
READ ALSO Latest: How France plans its Covid-19 vaccine rollout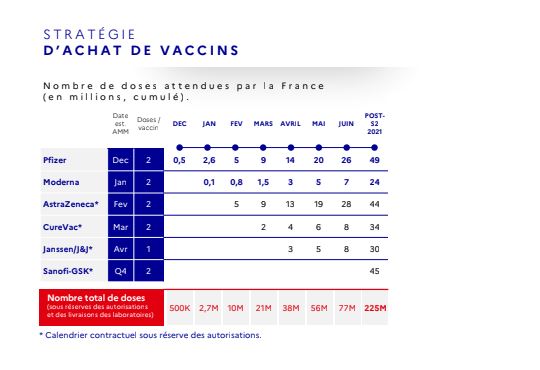 Graphic: French health ministry
France had always planned to begin its campaign with the BioNTech vaccine, adding the Moderna and Oxford/AstraZeneca shots as they received approval.
France has received 1.5 million doses of vaccines so far and will receive another 500,000 each week throughout January and February. This will rise to 1 million a week in March.
Authorities reported 21,703 new daily cases and 277 deaths on Thursday, bringing the French death toll to 66,841.