Prime Minister Jean Castex announced that all of the current Covid-19 restrictions would remain in place for the weeks to come.
This includes the nationwide curfew and the total closure of bars, restaurants, cafés, gyms, cinemas, theatres, museums and tourist sites.
"The time has not come to return to normal . . . We still admit one person to intensive care every seven minutes," Castex said, "and one in two people in intensive care are there for Covid-19."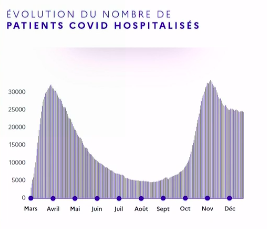 The country will remain under an 8pm – 6am curfew but the earlier 6pm to 6am curfew – already in place in 15 départements in eastern France – is set to be extended to another 10 départements, mostly in the east, after consultation with local authorities.
According to reports in French media the 10 départements are: Haut-Rhin, Bas Rhin and Haute-SAvoie in the east, Côte d'Or, Yonne, Cher and Allier in central-eastern France and Alpes-de-Haute-Provence, Vaucluse and Bouches-du-Rhône in the south east.
Border to stay closed with UK
The partial closure of the border with the UK will remain in place until further notice, the PM said to prevent the spread of a new variant of the coronavirus which is thought to be more infectious. 
France closed its border with Britain on December 20th 
At present only certain groups of people are allowed into France from the UK – French or European citizens, those who live in France or another EU country and essential workers – and everyone must present a negative Covid-19 test at the border.
Second-home owners, tourists and those visiting family remain barred.
READ ALSO UK travel ban – who can enter France and what paperwork do they need 
France lifted its second nationwide lockdown on December 15th, and hoped to reopen cultural centres like cinemas, museums and theatres in January, followed by bars, restaurants, gyms and cafés later in the month.
However the health situation was not good enough to allow this and "all activities and facilities that are closed today will remain closed until the end of the month," said Castex.
The situation will be reviewed again on January 20th, with the aim of a possible reopening for some sectors in mid February, if the health situation permits.
Ski resorts, which had hoped to get a green light to get back in business, will have to wait until at least early February, along with cinemas, theatres and other cultural sectors. Bars and restaurants would not be able to reopen until mid February at the earliest, the prime minister said.
Health officials fear a 'post-Christmas spike' of cases following increased travel and socialising over the holiday period, while the situation in several areas of eastern France is once again a cause for concern.
Reporting of case numbers has been slightly erratic due to the effects of public holidays and weekends, but the Prime Minister said that cases remain at an average of 15,000 a day – more than three times the target of 5,000 to reopen bars but a number that has remained roughly stable since the start of December.
Castex also said that France was doing much better than many of its neighbours, with an incidence rate half that of Switzerland and Germany and eight times lower than the UK, a difference he said was 'undoubtedly' due to France introducing its second lockdown in October.
Depuis mai, nous n'avons eu de cesse d'optimiser notre politique de dépistage. 86% des résultats sont rendus en moins de 24h.
Pendant la semaine précédant Noel, nous avons réalisé 3,5 millions de tests, sans augmentation des délais.
C'est plus que tout autre pays en Europe ! pic.twitter.com/fcAnjpxOw8

— Jean Castex (@JeanCASTEX) January 7, 2021
Concerning the "variant anglais", the mutant strain of the virus first identified in the UK, France is to start genetic sequencing of all its PCR tests, as well as increasing testing in schools and keeping in place the requirement for negative Covid-19 tests for all arrivals from the UK.
The health minister also laid out details of the ramping up of France's Covid-19 vaccination programme, which has been widely criticised for being too slow, saying the programme would be 'amplified, accelerated and simplified'.
READ ALSO ANALYSIS Are France's anti-vaxxers the real reason the Covid-19 vaccine rollout is so slow?
The vaccine is currently being given to staff and residents in France's Ehpad nursing homes and to healthcare workers who are aged over 50 or who have health conditions.
This will be expanded from Monday, January 18th when anyone aged 75 or older can make an appointment for the vaccine.
People can make an appointment with their regular doctor if they have any concerns they want to talk through, or their can make an appointment directly via a special phone number of via the sante.fr website.
A simplified process for the vaccination has also been laid out, instead of a compulsory medical consultation people can now make an appointment, fill out a questionnaire, sign a consent form and then receive the injection from either a doctor or a nurse.
By the end of January 600 vaccine centres will be open. 
Véran concluded the vaccine was the way in which France will be able to return to normal life, urging people to "get vaccinated, encourage your loved ones to get vaccinated, take the opportunity that science is offering."