1. The French government kept up support
Since he became president, one of Emmanuel Macron's main missions has been to kickstart the French start-up economy, particularly in the tech sector.
"I want France to be a start-up nation. A nation that thinks and moves like a start-up," Macron said in 2017, shortly after he won the election.
Macron's strategy has been to trickle down state-backed funds in order to grow a viable start-up ecosystem attractive to international investors.
When Covid-19 forced businesses shut in March 2020, the French government ramped up support, earmarking €7bn of the €100bn stimulus package to the digital economy.
Of these, €3.7bn will be injected into reinforcing start-up financing, the president said during a tech conference in September 2020.
ANALYSIS: Will Macron's €100,000,000,000 rescue plan be enough to save France?
2. Start-ups adapted well to the health crisis
Faced with a pandemic, the French start-up marked had to adapt to the new, socially distanced reality.
While many start-ups had to put their employees on the government's furlough scheme and cut spending, the overall conclusion seems to be that the French start-up ecosystem showed to be resilient faced with the health crisis.
Nearly 20 percent of French start-ups changed their business model in 2020, according to a 
study
 by Station F, a start-up workspace in a converted railway station in Paris, published in summer.
Some 12 percent had made important changes to their offers, reinventing themselves in order to respond to the new challenges posed by Covid-19. 
Only 5.7 percent of the start-ups believed that they would have to give up their business before the end of the year.
Success stories include Biloba, an app for pediatric consultations; Tarmac Technologies, which specialised in airplane connections and transitioned into cargo transport; or Ballin, which created a fitness app once sports was shut down and it could no longer evaluate the performance of football players.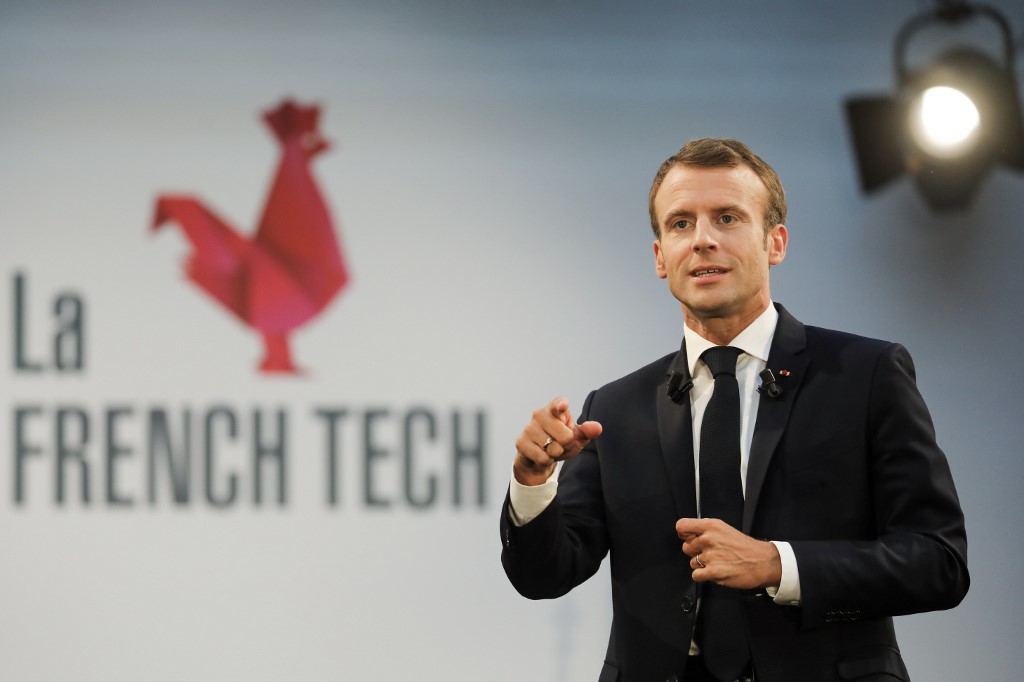 Macron speaking at a La French Tech conference, flanked by a red neon rooster, the tech-variant of France's unofficial national emblem. Photo: AFP
3. The start-up marked grew
Overall, France's start-up market saw a bump in investments in 2020, according to The State of European Tech 2020
report
, published by Atomico in December 2020.
French start-ups raised nearly €4.23bn in investments in 2020, up from €3.91bn last year.
The graph below illustrates how investments into start-ups in France have grown since 2016, the year before Macron came to power.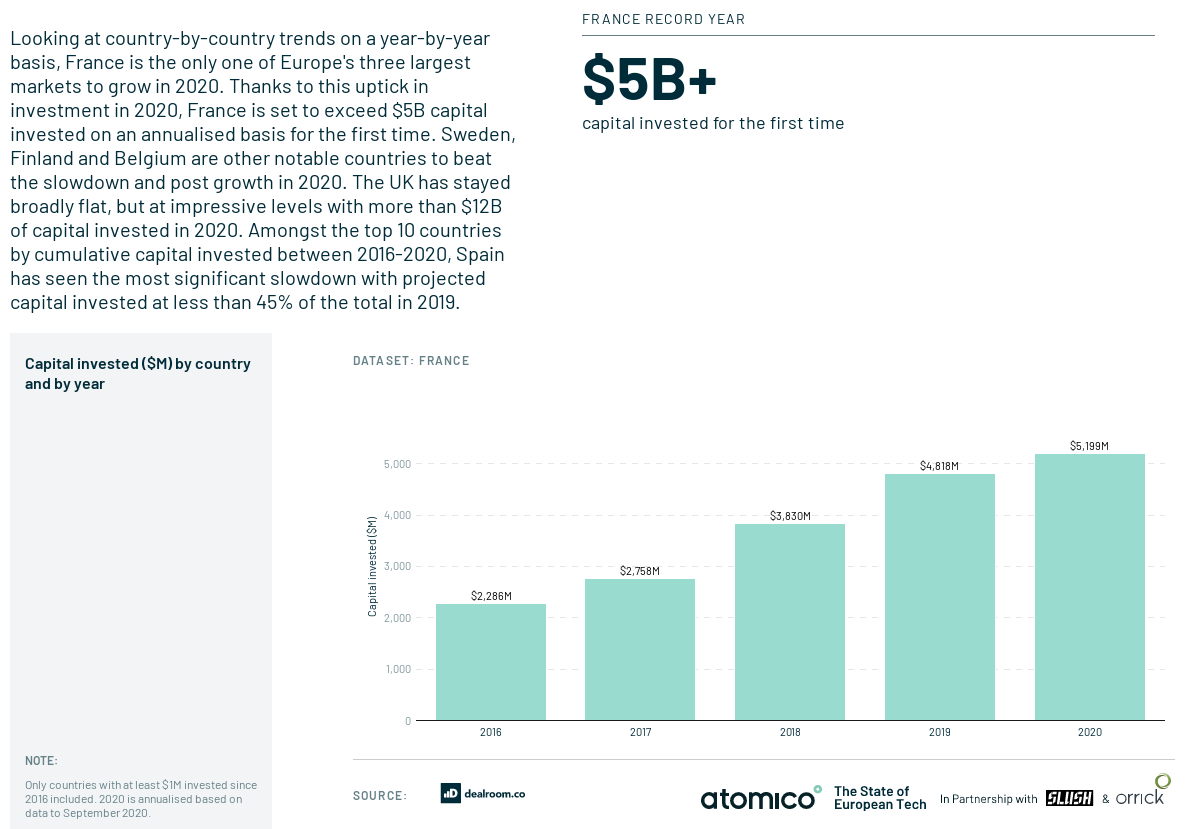 Photo: The State of European Tech 2020, by Atomico
Junior Minister for Digital Affairs Cedric O told start-up website Sifted in September that France was now "reaping the fruits" of over a decade of cross-partisan efforts to build French tech.
4. France did better than most European countries
Macron's policies of feeding money into the sector and making tax reforms to create "unicorns" – start-up companies valued at over $1bn – seems to have paid off. 
While France is still far from its goal of reaching 25 unicorns by 2025 (there are now 13), it was one of only three European markets – the UK, Germany and France – to raise more funding in 2020 than in 2019, as shown in the graph below.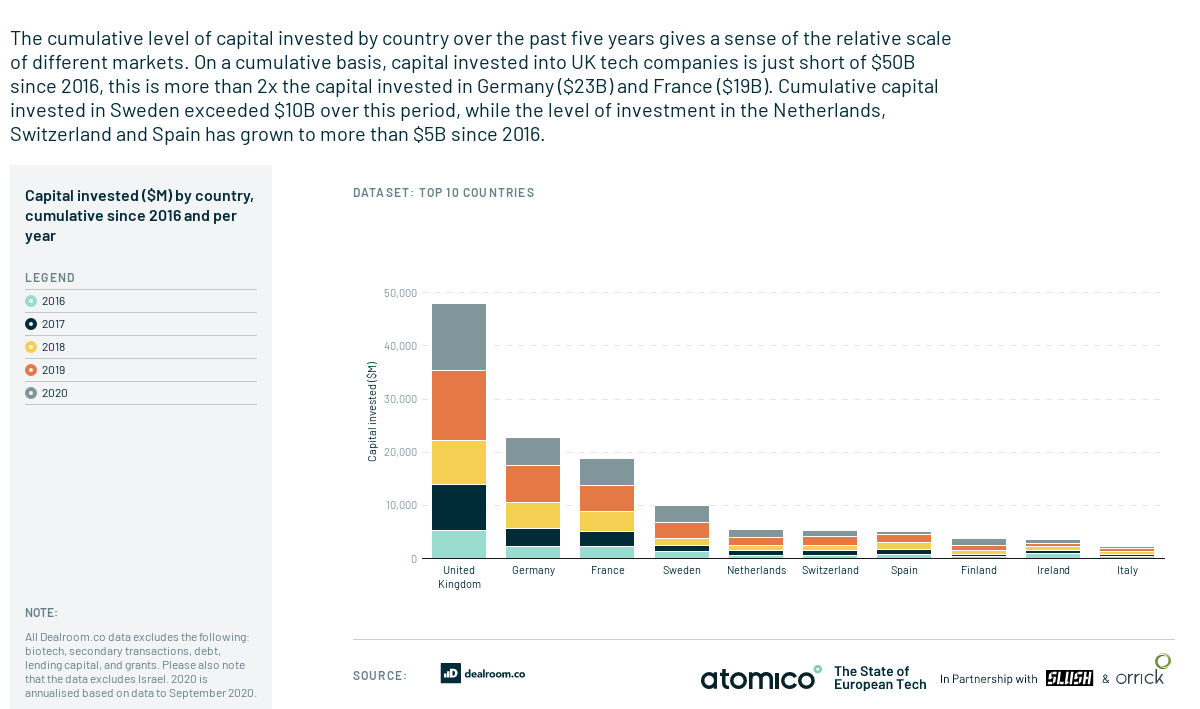 Photo: The State of European Tech 2020, by Atomico
While France still lagged far behind the UK, which received €10.21bn in start-up investments in 2020, the French market closed in on Germany, which raised €4.37bn in 2020, down from €5.59bn in 2019.
5. Brexit made France more attractive
While the London has long been the powerhouse of tech start-ups in Europe, Paris is hoping to become a real counterweight to the British capital following the country's exit from the European Union.
"Brexit is a huge opportunity for us, for immigration reasons, to become the new international hub," O told Sifted.
The French government has revised it tech visa to make it easier for start-ups to hire foreign talent from non-European countries, as well as for people setting up new businesses in France.
READ ALSO Five reasons to start your own business in France
"We are rolling out the red carpet for UK talent," O said.