What was the problem with the original plan?
France's nationwide vaccination campaign began on December 27th but by January 3rd barely more than 500 people had received the Pfizer BioNTech vaccine – although health workers vaccinated over the weekend were missing from this data.
Many health professionals have openly criticised this delay in France's planned mass inoculation, especially when compared to that of its European neighbours.
In Germany, where the first vaccines were also administered on December 27th, more than 230,000 citizens had received a first dose by January 3rd, while in the UK, where vaccinations began on December 8th, the one million mark has been passed. In Italy the tally is at around 80,000.
IN DETAIL: France's original plans for its Covid-19 vaccine rollout
"We are the very last on the European list," William Dab, France's former Director General of Health, told Le Parisien, adding that if France continues to vaccinate only 300 people a week "we'll still be doing it in 5,000 years".
"The whole healthcare community doesn't understand why there is such a gap with Germany: they vaccinate 20,000 people per day, we're at 50," Professor Mehdi Mejdoubi, head of Valenciennes Hospital in northern France, told TV channel BFM on Saturday.
So why has France's rollout been so slow?
According to a recent poll by Ipsos Global Advisor in partnership with the World Economic Forum, just 40 percent of French people want to take the Covid-19 vaccine.
Fear of side effects is the reason most often given for not wanting it.
France has historically high levels of vaccine scepticism, although vaccine rates do not always reflect this. In 2019 10 million people got the flu vaccine, roughly one in seven of the population.
Is scepticism the only reason why there's a hold-up?
Many doctors argue that bureaucratic processes are also causing delays in how quickly the vaccine can be delivered to metropolitan France's 64.8 million people.
"We must shorten the procedures as much as possible," said Jean-François Mattei, head of France's Academy of Medicine.
"Regarding the consent system for the elderly in Ehpad (nursing homes), there is no need to wait several days."
Up until now, seniors in an Ehpad establishment first get an appointment with a doctor who explains everything relating to the vaccine in order to get consent from the patient, and then a second appointment to administer the vaccine, which can lengthen the process by four days.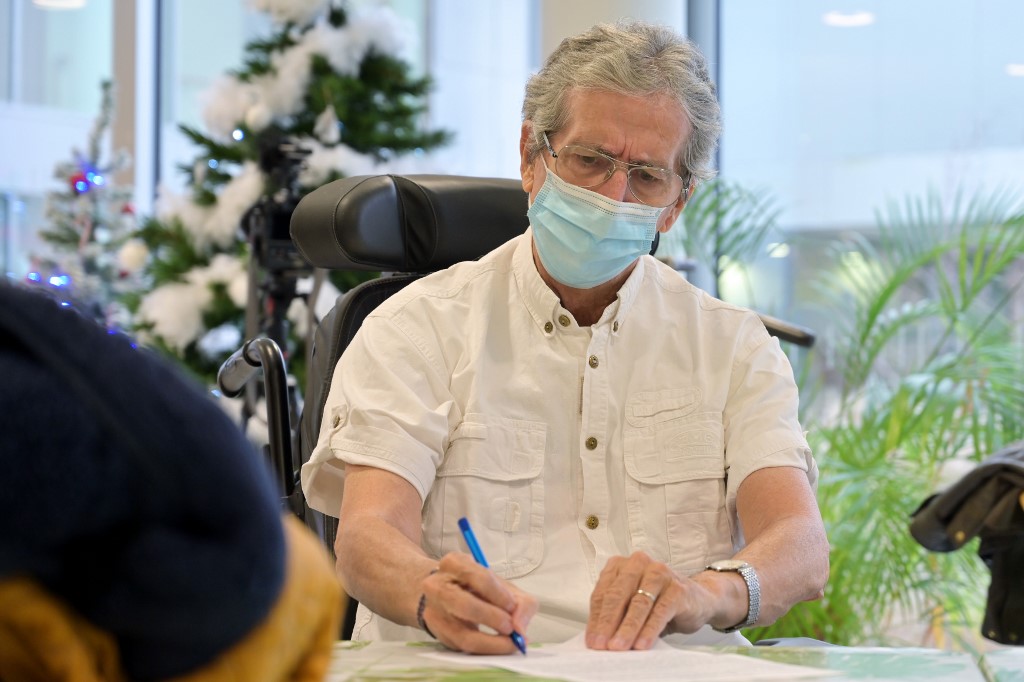 France stands out for being the only country in Europe with this consultation system.
"When an elderly person to whom you offer a vaccine says yes, there should be no hesitation, the epidemic is taking us by surprise, the emergency is here today. We have to change gear,' added Mattei.
France's government has also justified the delay with the fact that health authorities wanted to first vaccinate elderly residents in nursing homes, which represent a third of the deaths linked to Covid-19. In other countries, all healthcare workers have been immediately vaccinated.
What changes now?
After close consultation with France's disgruntled medical community, French Health Minister Olivier Véran announced in a series of tweets on December 31st that his government would accelerate and modify its vaccine rollout strategy.
From Monday January 4th, health workers over the age of 50 will be able to be vaccinated in the country's more than 100 CHUs (university hospitals).
Before the start of February, the vaccine will be made available in city and town centre locations, firstly for those over 75 years of age, and then those over 65 years.
On Tuesday morning Véran said 500-600 new vaccination centres will be raised before the end of January. He also announced that domestic aid workers and firemen over 50 would be able to get the jab alongside health workers.
The vaccination will also be delivered to care homes, health centres and other clinics and large medical establishments with close links to local communities.
Currently, up to 500,000 doses arrive in France every week.
However, France's Health Minister continues to insist on a strategy and criteria that favour those most at risk, rather than including a wider population bracket which allows France to catch up with the rest of Europe, or health professionals of all ages on the frontline in the fight against Covid-19.
Regarding the slow consent system for Ehpad residents, Véran said that the vaccination could be now be administered immediately upon consent during the first and now only appointment, without having to wait for a reflection period of several days.
Véran went on to conclude that the vaccination campaign will gain momentum, as did Prime Minister Jean Castex, who stated "in the months to come, the situation will be completely balanced in terms of vaccinations across Europe".
Soyez rassurés. La campagne vaccinale va bientôt prendre de l'ampleur. Le vaccin est une chance historique d'en finir avec cette pandémie et retrouver une vie normale. Nous ne passerons pas à côté. (2/12)

— Olivier Véran (@olivierveran) December 31, 2020
The French Health Minister also pointed out that countries such as neighbouring Belgium and Holland were yet to begin their own vaccination campaigns. 
This week, 300 nursing homes out of the country's 14,000 will receive the vaccine, with many more promised for the following week.
For his part, President Emmanuel Macron promised that he "will not allow an unjustified delays to set in" anymore, stating that up until now France's vaccine rollout has had the pace of a family walk".
Whether these new measures will be enough for there to be a noticeable change we'll have to wait and see, but there has been a sense up until now in France that – whether due to unnecessary bureaucratic processes or excessive government caution pandering to vaccine scepticism – the vaccine rollout has been too slow.