When?
The vaccination programme started on December 27th and is now being rolled out in phases with the most vulnerable people first.
Phase 1 runs through January with phase 2 beginning at the end of January and running through February and March.
Phase 3, which encompasses most of the general population who don't fall into high risk groups, is scheduled for late spring.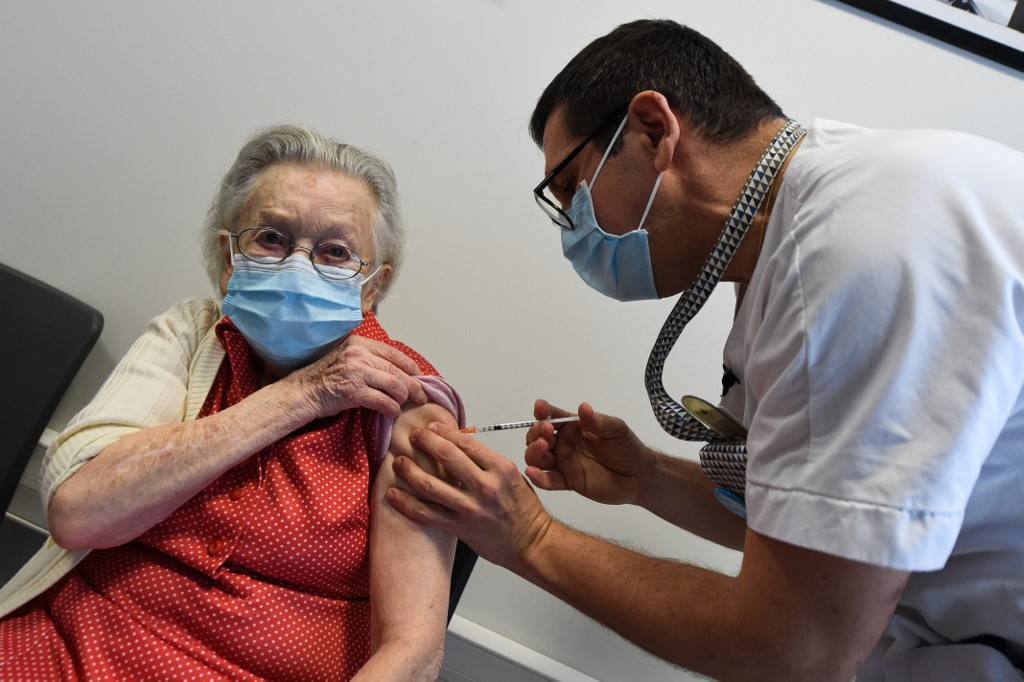 The programme began in Ehpad nursing homes. Photo: AFP
Who?
French health authorities have devised a plan based on vulnerability to the virus, with those most likely to develop the most serious form of the illness being vaccinated first. 
Currently eligible for vaccines are;
Residents in the country's Ehpad nursing homes, as well as Ehpad staff (around 1 million people)
Healthworkers, emergency workers and domestic and home helps working with vulnerable groups , 
Over 75s
People of any age with serious underlying health conditions such as cancer or kidney failure ill be vaccinated – full list of eligible conditions HERE
The above groups are vaccinated in vaccine centres or – in the case of healthcare workers or Ehpad residents – in hospitals and Ehpads.
READ ALSO How to book an appointment for the Covid vaccine 
From March 2nd anyone aged between 50 and 74 with an underlying health condition including diabetes, hypertension or a BMI of 30 or above can access the vaccine via their GP – find the full list of eligible conditions HERE
From late spring the programme will be opened up to the rest of the population (around 52 million people).
There are no firm dates for this, but it will be done in order with people aged 50 plus and key workers including teachers and retail staff first, before moving to people in precarious living situations such as the homeless, people who live in a communal settings and then the rest of the population.
The vaccine is not limited to French citizens but you do need to be resident in France. People who have not yet fully registered in the French healthcare system and received their carte vitale can still be vaccinated.
How?
Appointments can be made online, via the medical app Doctolib or by phone on 0800 009 110.
For full details on how to make an appointment, click HERE.
At present the vaccine is being administered through hospitals, vaccine centres and GPs, but there are plans to roll it out to France's vast network of pharmacies.
How much?
The vaccine will be free to everyone, even those who don't have a carte vitale. 
"Seeing as this is a public health issue, unregistered people as well as those in a very precarious situation can get vaccinated for free," the health ministry told The Local, referring to a government decree published on December 31st.
Which vaccine?
France has currently licensed three vaccines for use; Pfizer BioNTech and Moderna which are licensed for all groups and AstraZeneca which is licensed for under 75s. The Johnson and Johnson vaccine is expected to be licensed by the European Medicines Agency in March, closely followed by the French medical regulator.
Will it be compulsory?
No, "no-one will be obliged to be vaccinated" the health minister said.
This has been a tricky issue in France, which has historically high levels of vaccine scepticism. A recent poll showed that only 40 percent of people plan to be vaccinated, although new polls point to a significant increase over the past couple of weeks.
France is currently running a consultation into the idea of a 'vaccine passport' for travel although even is approved this would be unlikely to be brought in before the summer.