1. Covid-19 pandemic
Even with the prospects of a vaccine soon within reach, Covid-19 will continue to be a main challenge for Macron in the coming weeks and months.
The president has laid out a three-stage plan to gradually ease the lockdown, but the big challenge will be to keep cases under control once the population begins to move more freely again.
READ ALSO Calendar: The next key dates in France's plan to end lockdown
If the government manages to keep the virus under control while continuing to relax rules in order to stimulate economic activity, it will be a major win that will help them over the several other hurdles outlined below.
If, on the other hand, the virus spirals out of control again, it could force the government to tighten rules for a third time, with potentially crushing economic consequences for many business owners already struggling from the preceding two lockdowns.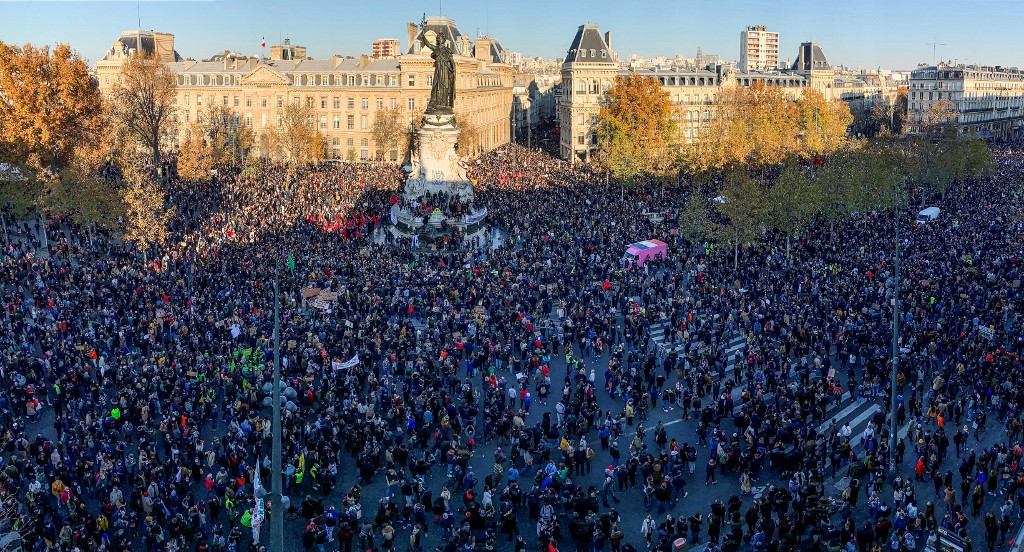 Place de la République in Paris during one of several protests in France against the security law on November 24th. Photo: AFP 
2. Article 24
A single clause in what actually is a far-reaching security bill has turned into a major headache for the government. Article 24 of the so-called "global security law" has caused uproar for its aim to penalise the act of publishing an image of an on-duty police officer if there is manifest intent to harm their "physical or psychological integrity". 
Journalists groups and international NGOs say the wording of Article 24 is vague and open to abuse.
EXPLAINED: The new French law that restricts photos and videos of police officers
After hundreds of thousands of protesters across France took to the streets to protest the law following two incidents of violent behaviour by police – both revealed through videos published online – the government took the unusual step to backpedal on a text that already had been approved in the lower house of French parliament.
READ ALSO:
Macron, who reportedly wants to "re-establish confidence" between the police and the public opinion, will have to come up with a solution that pleases not only these two sides, but also MPs – many of whom have expressed outrage over what they say is a government attempt to thwart a decision that already has received democratic backing.
It's a tricky task, as the law was voted in by an overwhelming majority (388 MPs against 104, 66 abstentions), and the bill is headed to the Senate for approval.
3. International pressure over Islamist bill
Another legal document that has caused a stir is the government's bill targeting radical religious groups. Long known as the Islamic separatism bill, the final draft – to be unveiled in the coming week – is called Loi confortant les principes républicains (law confirming republican principles.
READ ALSO: What's in France's new law to crack down on Islamist extremism?
The radicalisation bill caught international attention and lead to public demonstrations in some Muslim countries, as well as scathing attacks in the US press which deemed it racist and Islamophobic. The French government says its ideas have been misunderstood and mistranslated.
Here too, Macron will have to strike the right balance between two sides; he will have to show that his government is cracking down on extremist groups without seeming to target all Muslims.
ANALYSIS: Has France really been 'deserted' by the American media over terror attacks?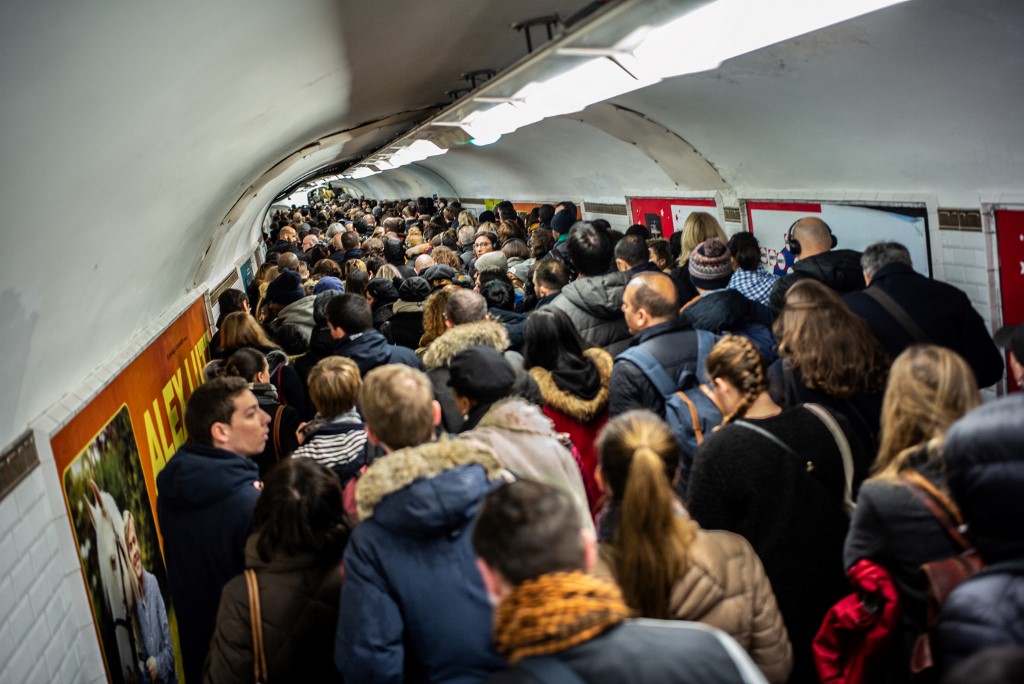 As transport unions went on strike last winter, this was what the Paris metro generally looked like during rush hour. Photo: AFP
4. Pension reform
It seems like forever ago, but at this time last year the number one challenge the French government faced was the uproar over its proposed pension reform, which sparked the biggest mass strikes France had seen in 30 years.
In the end, the government forced the bill through parliament and it was supposed to be examined by the Senate in April, but the Covid-19 health crisis interrupted the process and the government decided to postpone the issue.
Now some officials believe it's time to bring the reform back, including the economy minister, who old Le Parisien that the reform should be an "absolute priority".
READ ALSO French government unveils pension reform bill – so what is in it?
The government line is that the new system would be fairer, cheaper and simpler, while critics say it would harm those in working low-paid or physically challenging jobs, such as rail workers, teachers and nurses.
The big question is how the public opinion will react to the reform now, with Covid-19 having severely negatively impacted the economy –  which leads us to the next point.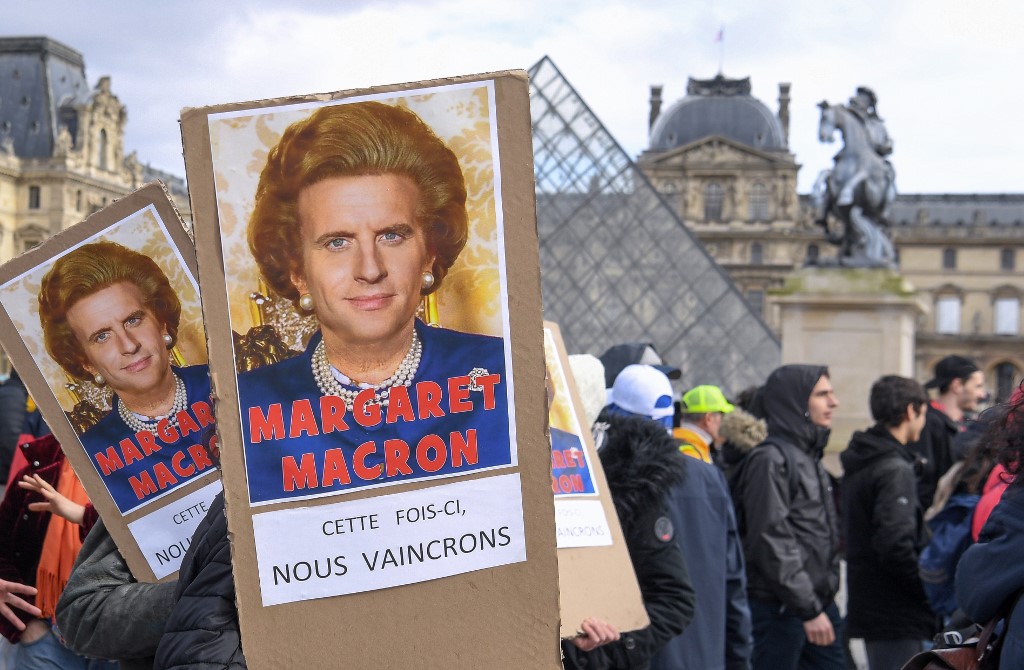 French protesters with placards comparing the French president to former British Prime Minister Margaret Thatcher during the pension reform strikes in Paris. Photo: AFP
5. Economic recession
France is just one of many countries struggling with a reeling economy that was severely hit by the pandemic and subsequent lockdowns.
While the second lockdown has been a lite-version of the first with more businesses allowed to continue their activities, many businesses are on the verge of bankruptcy following months of reduced revenues.
Even with the government's aid schemes and economic stimulus packages, poverty numbers are on the rise in France. 
6. The looming election 
On top of all that, Macron has to look towards the next election. France's next presidential election might not be until 2022, but the campaigning has already started.
Macron's biggest threat is currently far-right party leader Marine Le Pen, of Rassemblement National, who he beat in the second round of the 2017 elections.
Macron wants to weaken Le Pen by what in French is called chasser à droite (hunt to the right) and appeal to her voters. His interior minister, Gérald Darmanin has been behind a lot of tough-talking that has appealed to the right.
But Macron also needs to appeal to other voter groups who helped elect him back in 2017 – largely younger, urban and more left leaning groups.
For many of them environmental policies are key and they perceived the young French presidential candidate as the one who would turn France into a front line fighter against climate change. This is currently an image contested by France's top administrative court, which has given the government three months to show that it is taking action to meet its climate commitments.