Yes, Paris is an amazing city for a stroll, but some streets simply stand out more than the others. From charming walkways to extravagant roads – here are ten that you should really prioritize.
And be prepared for a few you might not have heard of before.
1. Rue des Barres
We miss rue des Barres cobblestones…#Paris #parisjetaime #Travel @davidphenry 💖💕 pic.twitter.com/KTwoy9cdcH

— Vacation In Paris 🗼 (@VIParis) April 21, 2020
This picturesque path slopes up toward a half-timbered home from the 15th century as the gargoyles of Église Saint-Gervais-Saint-Protais survey the scene. Warm afternoons bring clued-in locals to the terrace seating of tearoom L'Ebouillante for fresh salads, while at the base of the street sit the popular Chez Julien restaurant and Café Louis Philippe, where Johnny Depp once filmed a scene for The Ninth Gate.
READ MORE: Tell us: What are your top tips for visitors to Paris?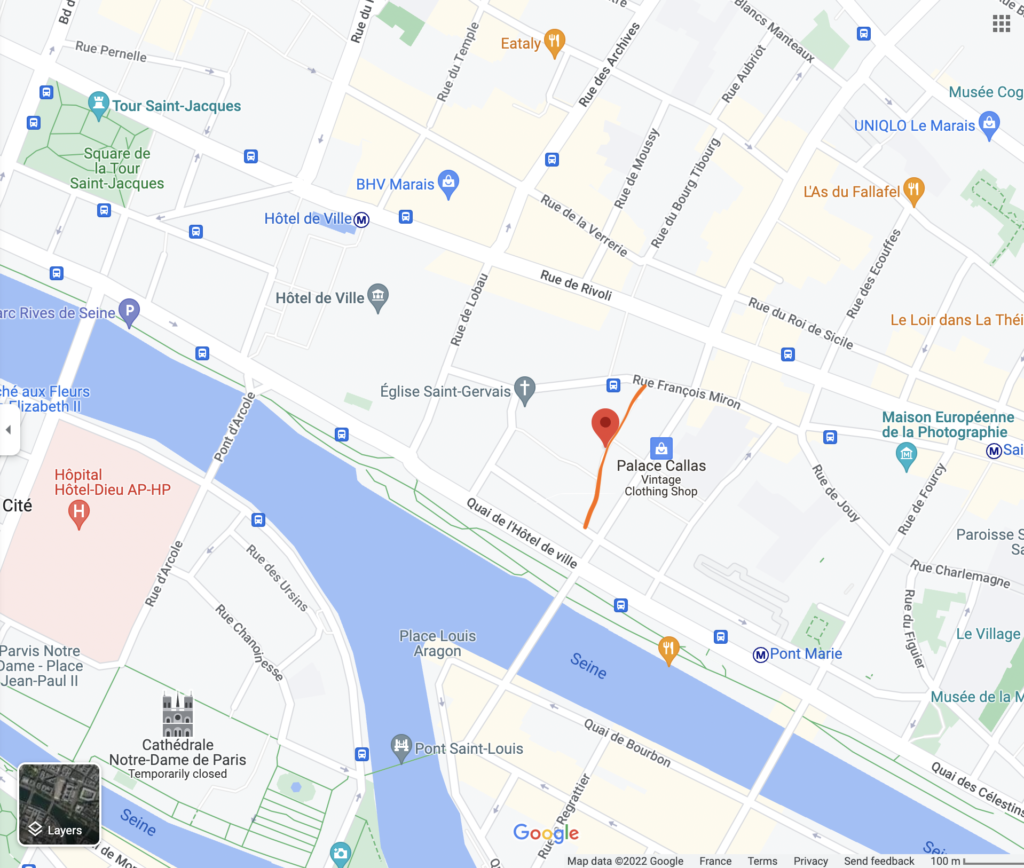 Google Maps image showing Rue des Barres
2. Rue de l'Abreuvoir
Rue de l'Abreuvoir, Paris.

Time after time, the same patterns are present in the world's most popular & beautiful streets

📸 Christine Rogador pic.twitter.com/1mfSi4gbBl

— createstreets (@createstreets) August 21, 2022
How do you leave Paris without leaving Paris? Answer: Montmartre. Covered with wisteria in the spring and toboggans when it snows, this lazily winding street encapsulates the rustic throwback charm Montmartre is known for…without all of the tourists Montmartre is known for. Pop into miniscule La Maison Rose for a drink to toast the famous footsteps you've just traced – notably those of Picasso, Renoir, and Degas.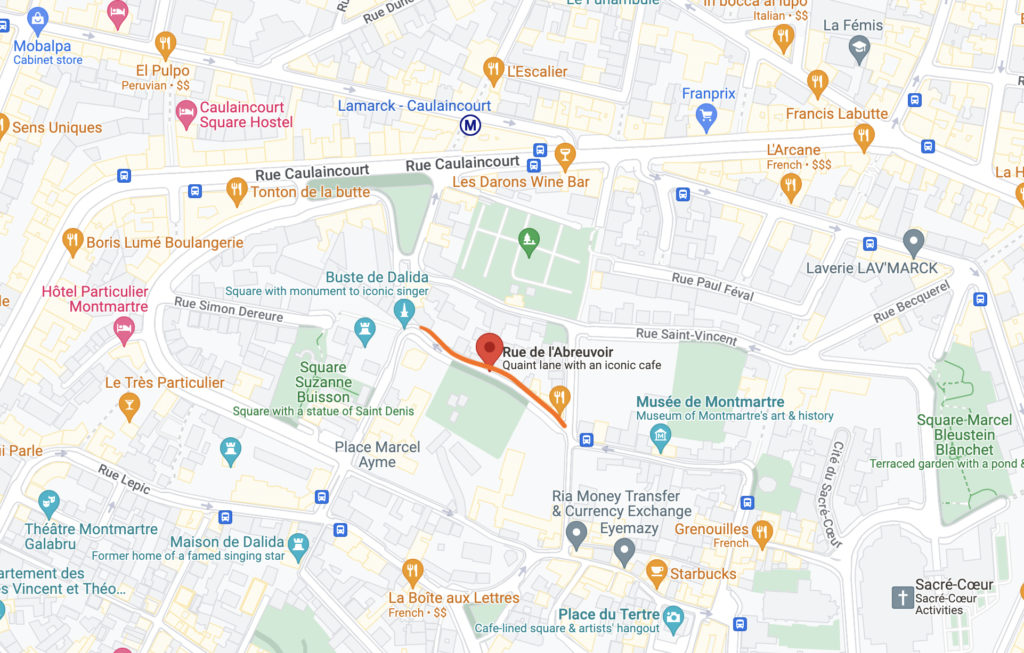 Google maps image of Rue de l'Abreuvoir
3. Cour du Commerce-Saint-André
Le charme de la cour du Commerce Saint-André !
Située dans le quartier de Saint-Germain-des-Près, elle commence au 59 rue Saint-André-des-Arts et se termine au 21 rue de l'Ancienne-Comédie et au 130 boulevard Saint-Germain#paris #paris6
Photo © lesfacadesdeparis pic.twitter.com/unFTxWY9X2

— Un guide à Paris (@unguideaparis) September 6, 2022
In this 18th century alley you'll find the city's first coffee house, Le Procope, next to the subsequent birthplace of the guillotine at #9—proving that caffeine is a hell of a drug. Another pair of addresses vie for the area's best hot chocolate title: La Jacobine and Un Dimanche à Paris. A local's tip: if the gate across from Le Procope is open, slip in discreetly for a hidden series of cozy courtyards.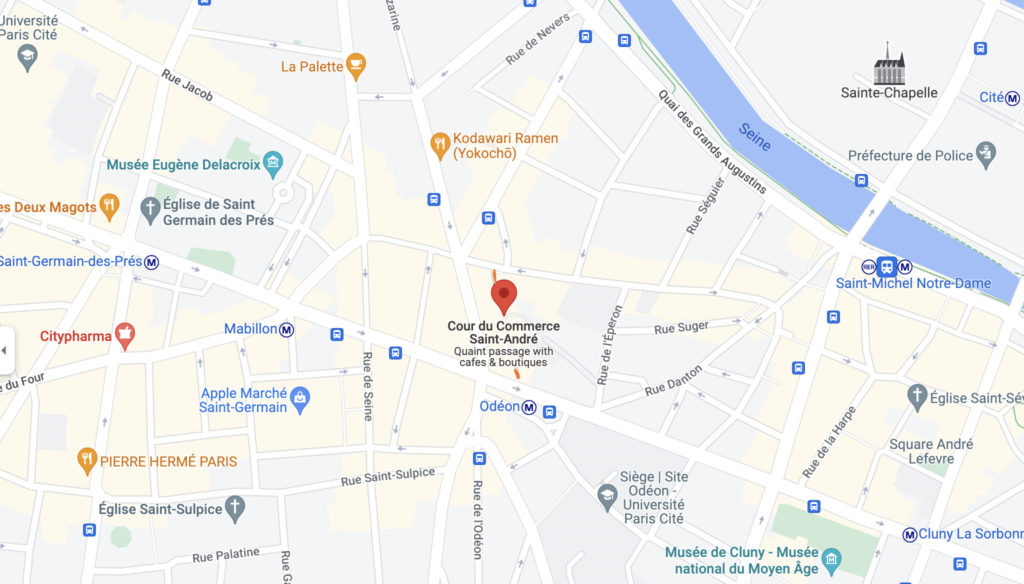 Google maps image of Cr du Commerce Saint-André
4. Rue Montorgueil
Strolling down the lovely Rue Montorgueil.🚶‍♂️🌇 What's your favorite area for a stroll in #Paris? #Parisjetaime

📸 @Didineta pic.twitter.com/ZquXQ6VAmA

— Paris je t'aime (@ParisJeTaime) January 6, 2021
Sure you can't quite pronounce its name correctly, but don't miss this street's exciting slice of local life and outdoor market ambience. Start at the southern end with an empty stomach and nibble your way through high-end purveyors of all things French and tasty. Old-school butchers next to fishmongers and fromageries provide a snapshot of the pre-supermarket glory days. Don't pass up Stohrer, Paris' first boulangerie from 1730, and endless people-watching opportunities in the street's bistros and bars.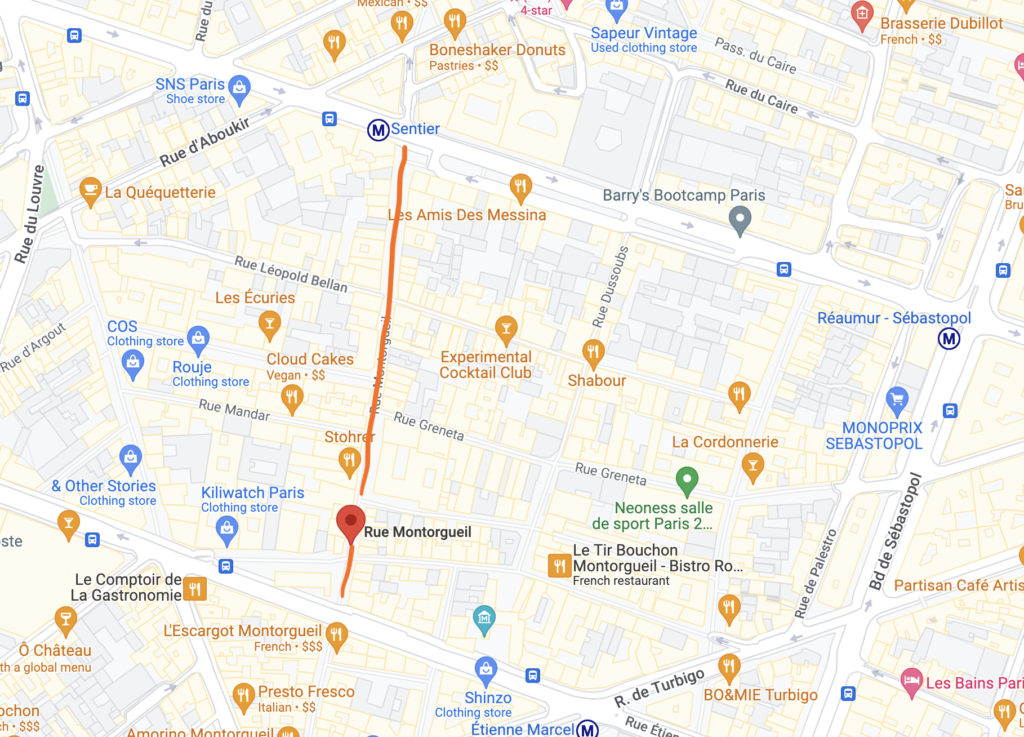 Google maps image of Rue Montorgueil
5. Rue Crémieux
Rue Crémieux Paris. Well I like the cobblestones. Sleep well my friends. pic.twitter.com/6HoMY1nND7

— 🏛Architectolder (@Architectolder) February 3, 2022
Travelling to or from Gare de Lyon? Tug your luggage a few extra steps to Rue Crémieux for a colorful oasis of charm. Affectionately nicknamed the "Notting Hill of Paris", brightly-hued facades complete with picture-perfect bicycles, potted plants, and scaling ivy offer a quaint respite from the nearby clamor of train-goers. Book a room at Hotel Corail and make this wistful walkway part of your daily Paris routine.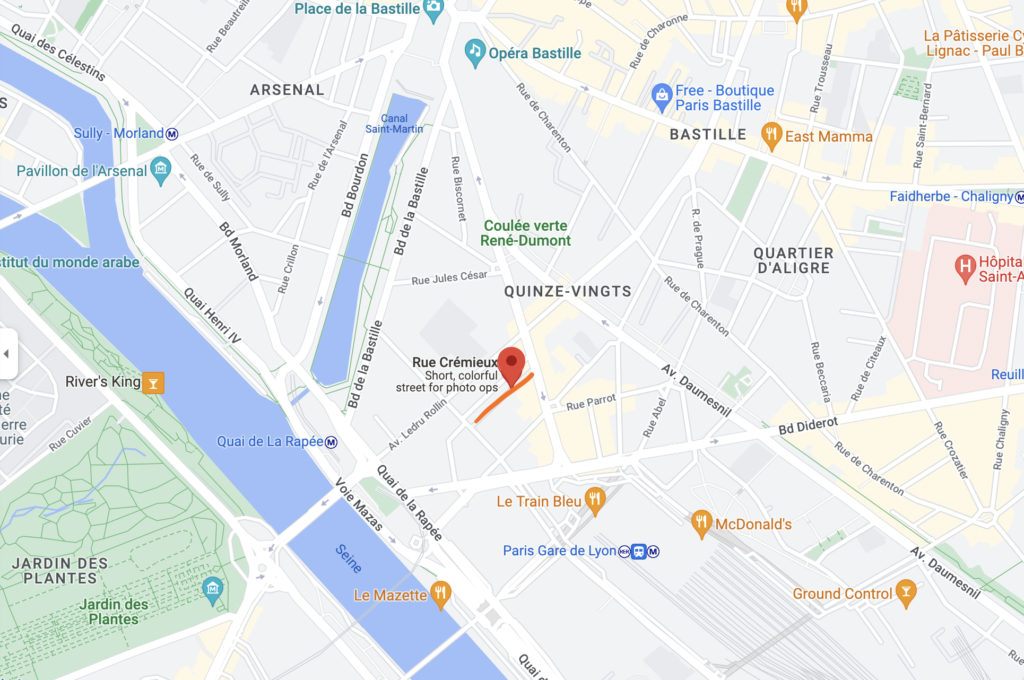 Google maps image of Rue Crémieux
6. Rue des Rosiers
Have a great Saturday!
📸 the ancient street of Rue des Rosiers in the 4th arrondissement of Paris > https://t.co/PPFSa4fzx0
.
.
.#visitparisregion #frenchmoments #ExploreFrance #EnFranceAussi pic.twitter.com/CZQP0lGDBQ

— French Moments (@French_Moments) May 28, 2022
Following the curve of an 800 year-old medieval rampart, this cobblestone lane of the Jewish Quarter is a postcard straight out of the Middle Ages. Kosher bakeries and synagogues sit side by side with trendy boutiques and life-changing falafels. Speaking of which: if the employee outside L'As du Falafel tries to drag you into the queue for a sandwich, let him. Add a sweet finish with handmade macarons from Damyel.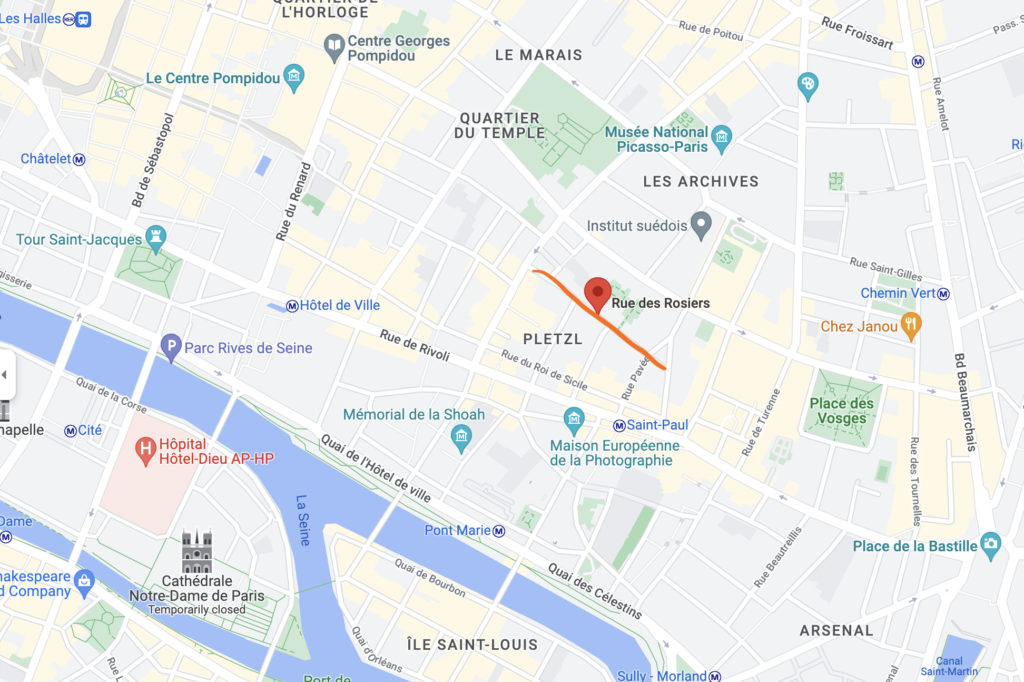 Google maps image of Rue des Rosiers
7. Rue Lepic
Rue Lepic…#Paris #Travel #SaturdayVibes #France #SaturdayMotivation 📸 Jill Beckmann 💖💞 pic.twitter.com/i6vdsQAasb

— Vacation In Paris 🗼 (@VIParis) June 11, 2022
Start with the titillating teases of the Moulin Rouge before hiking up to Café des Deux Moulins, movieland workplace of the quirky character Amélie. Le French Burger across the street proves that Parisians have finally cracked the code to a decent hamburger, sourcing 100 percent of their ingredients from the merchants of Rue Lepic. Further up the hill is historic bistro La Pomponette and Vincent Van Gogh's old pad at #54.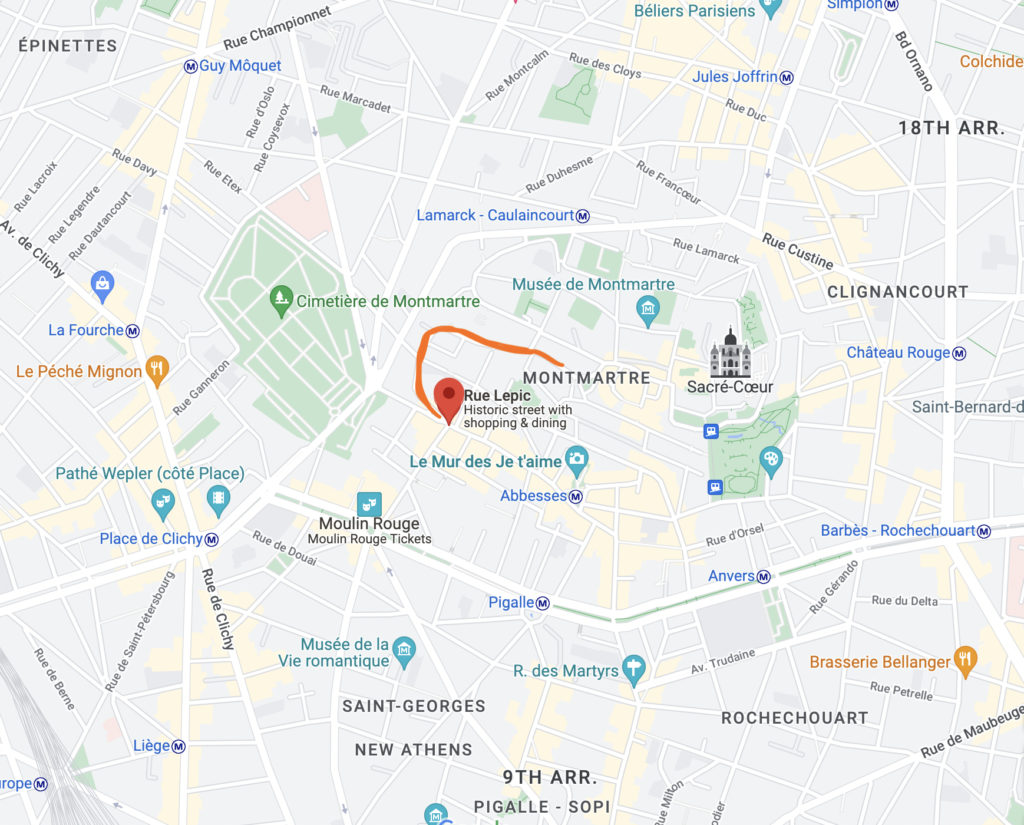 Google maps image of Rue Lepic
8. Rue Saint-Antoine
Rue Saint Antoine (turns into Rue de Rivoli heading westward) pic.twitter.com/d6m0p60ys9

— Marcel Moran (@marcelemoran) September 30, 2021
1789 saw this street packed with a bloodthirsty mob on its way to La Bastille. Things have chilled out since then; it's now a popular foodie strip. Start at the Saint-Paul-Saint-Louis church, grab some sheep's milk cheese at Laurant Dubois, a bottle of red next door at Caves Saint-Antoine, and baguettes at Miss Manon for a memorable Paris picnic. A place to sit, you say? The classy grass of Place des Vosges is just a stone's throw away.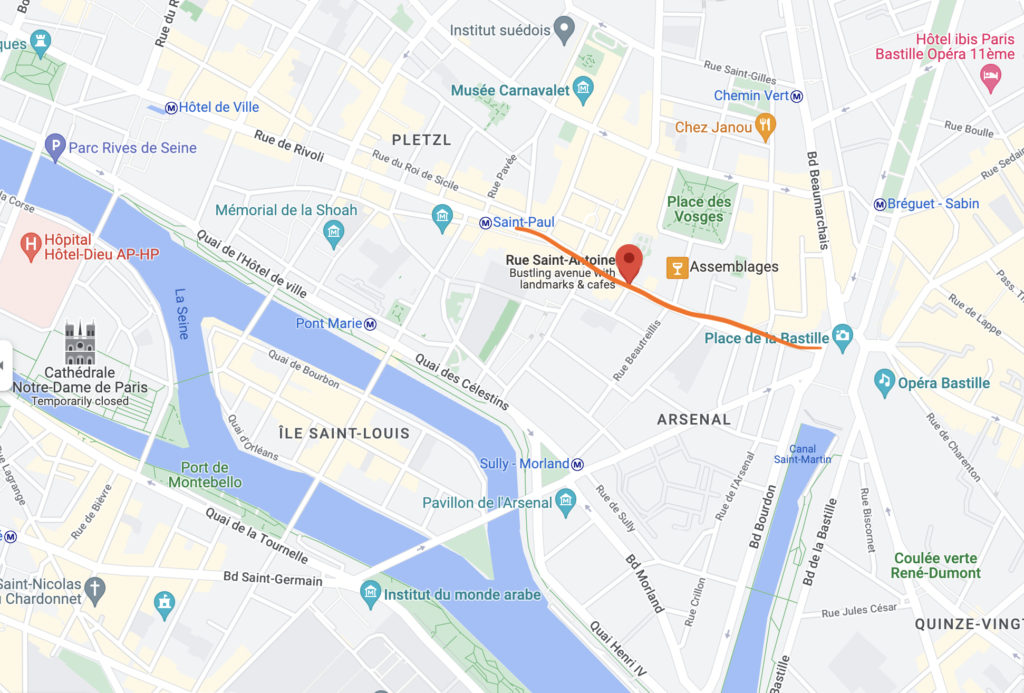 Google maps image of Rue Saint-Antoine
9. Avenue Winston Churchill
Pont Alexandre III, Alexander 3 Bridge, in Paris, France pic.twitter.com/7Ogs2EMvUf

— Duncan Oil (@DuncanOil) October 10, 2022
Paris always shines brightest when it knows someone's watching, which was the case when the Grand Palais and Petit Palais were built for the 1900 World's Fair. Their unapologetic opulence reflects the champagne-soaked Belle Epoque from which they sprung. This avenue culminates in the elegant Pont Alexandre III for prime views of the Eiffel Tower and Les Invalides. A local's secret: dash into the garden of the Petit Palais (entry is free) for a café break with a killer view.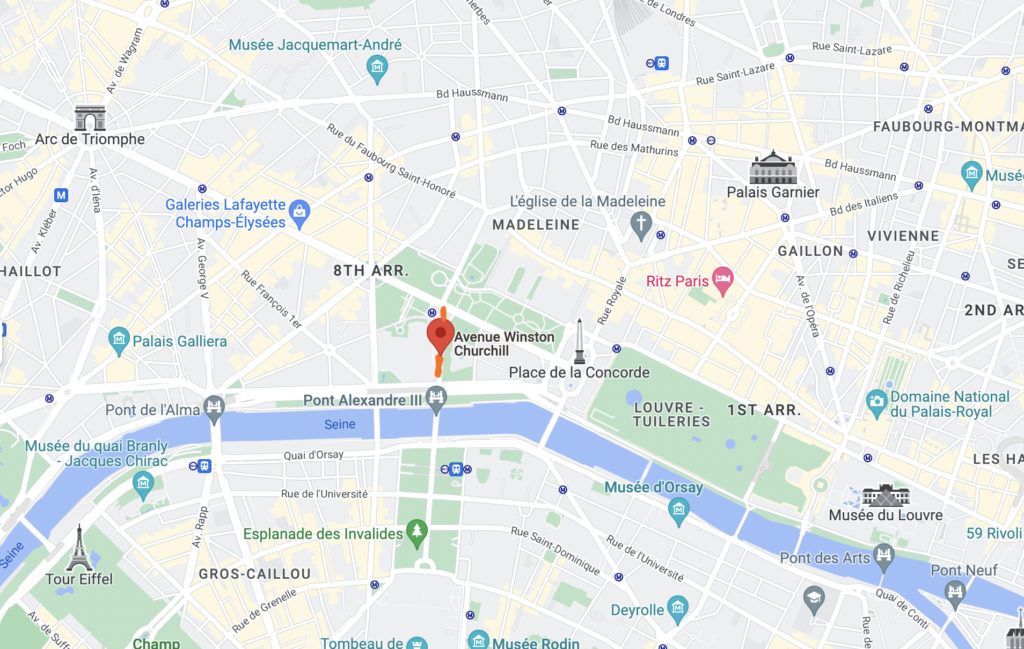 Google maps image of Avenue Winston Churchill
10. Quai de Jemmapes
Quai de Jemmapes way of life. Just in front of the studio 😍👍 @CyberGroupStud #Paris #QuaiDeJemmapes pic.twitter.com/jLfH0HBvpA

— Lelardoux Olivier (@olelardoux) June 23, 2016
Plug into the buzz of the hippest hood this side of Brooklyn by following this street northward along the Canal Saint-Martin. Bask in the area's untouched local vibe today before the guide books discover it tomorrow and tip off the rest of the planet. Grab a wine & cheese pairing at La Vache dans la Vigne or a cocktail at the Congo-inspired cabinet of curiosities Le Comptoir Général. French cinema fans should continue up the canal to the iconic Hôtel du Nord.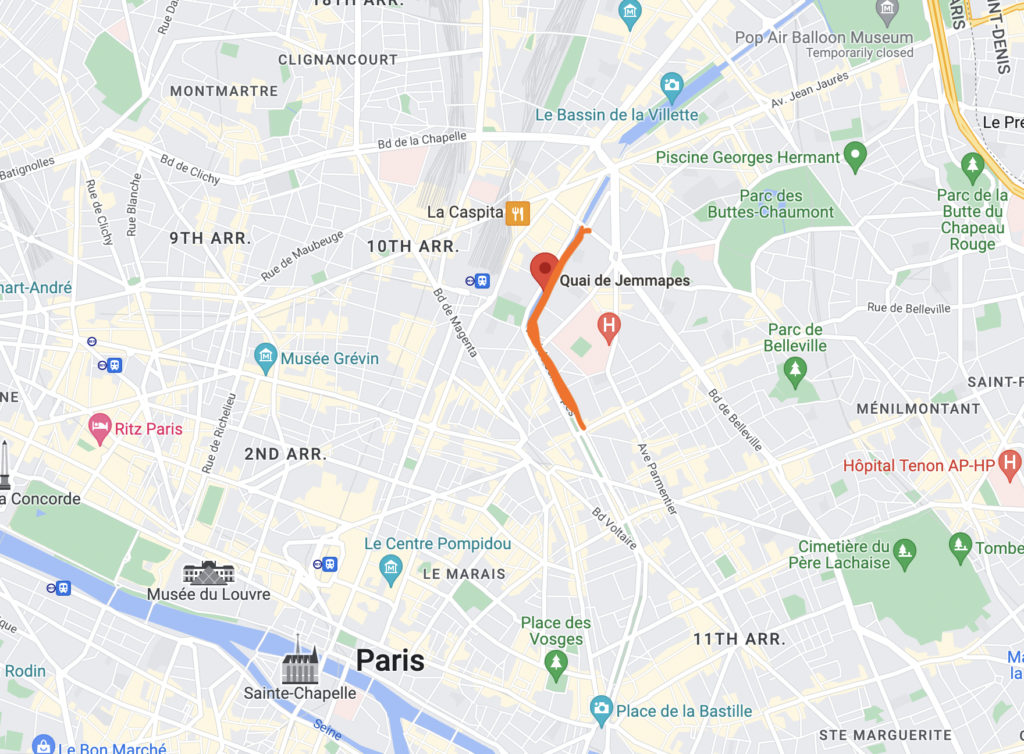 Google maps image of Quai de Jemmapes
These tips were provided by the folks at Localers, the friendliest walking tour guides in Paris, who offer small group and private tours of the French capital. Browse their selection of over 30 excursions and experiences by visiting them HERE.